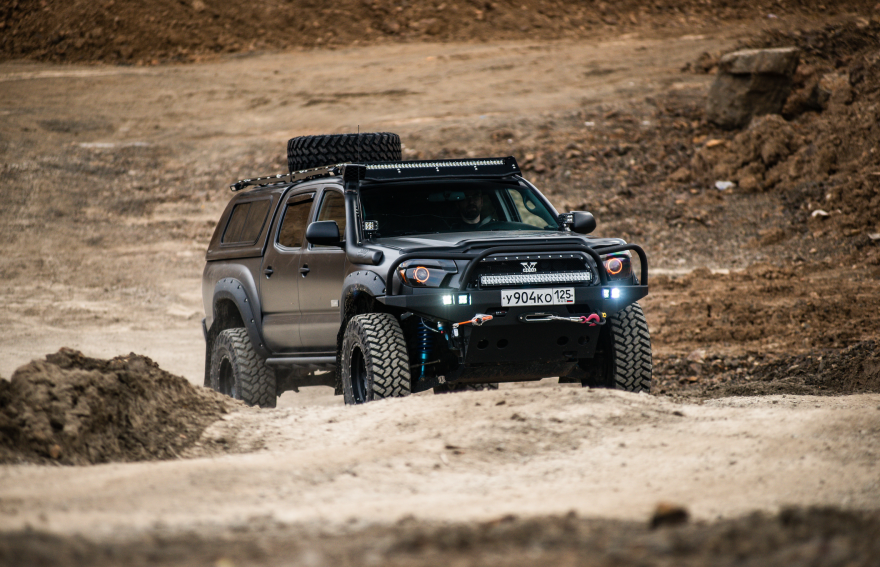 If you are looking at building an overlanding Tacoma or are in the market for your next adventure-mobile you need to read on! We have the top 5 upgrades you need for overlanding in your Toyota Tacoma. 
If you haven't heard, overlanding is the hottest new trend hitting the streets, and trails, all across the world. In a world where people travel to relax and ultimately enjoy as much time as possible at their destination, Overlanding has a different goal. This new pass time is all about the journey. Overlanding mixes a variety of pursuits from camping and hiking, to off-roading and self-reliance to create a truly unique and full-filling new passion for the outdoors.  
So what is the deal with overlanding and what do you need to actually make this a reality for you and your friends? Well, to get in to overlanding, you need to solidify what your primary means of travel will be. The first thing you will want to do is decide if you will be traveling on 2 or 4 wheels. If you are going to be traveling on 4, you will most certainly spend some time exploring the Toyota Tacoma. Overlanding Tacoma style will put you in to a group of some of the most passionate vehicle owners groups as well as provide you with one of the largest product selections available for overlanding. 
Overlanding Tacoma style is so popular, because the Tacoma comes off the production line capable of handling many of the trails that an overlanding novice would start out on. With some modifications, the Tacoma is one of the most capable vehicle available for overlanding. Not only is it a capable vehicle, the Tacoma also looks badass when it's fully kitted out with your overlanding equipment.
With all that said, let's get to our list of the top 10 upgrades to kick off your adventures. Here it is, Overlanding Tacoma style!
Overlanding Tacoma Roof Top Tent
By now you have probably come to the conclusion that if you are overlanding, you are going to be sleeping in your vehicle or camping next to it. One of the biggest things that those who overland desire, is to be self reliant. Because of this, you will absolutely need to decide how and where you plan to sleep on the road. Many may decide to just bring a standard ground tent, especially if you are new to this pursuit, however, if you are going to do something, why not go all the way? By go all the way, I mean get a roof top tent for your overlandingTacoma. 
The roof top tent has become an extremely common addition to vehicle for people hitting the road for long stretches. The beauty of this set up is that you don't need to take up any extra space within the flatbed of your overlanding Tacoma, this tent attaches to the roof and stays there. You only need to expand it when you are sleeping and then when you are ready to roll, pack it right back up and get on the road.  
There are numerous manufacturers who can get you set up with the right tent for your adventure, below as a model from Tepui to get your wheels turning. 
Overlanding Tacoma Backup Gas Tank
If you are going to get serious about building an overlanding Tacoma, than you will certainly be looking at how many miles per tank you can squeak out. Many who embrace overlanding will traverse hundreds, sometimes thousands, of miles with the goal of never refueling at a gas station or even engaging with civilization. The name of the game is self-sustainability, which is why you will want to take a serious look at some form of transfer flow pump for your vehicle. 
With options as low as 10 gallons and some upwards of 100 gallons, you are looking at some serious extra range for your trip. You can choose from an auxiliary tank that will automatically switch over to provide a very simple experience or a tank that also has a pump, just like at the gas station. the beauty of a tank with the pump is that you can top off any other vehicle or device which is gas powered, such as a dirt bike.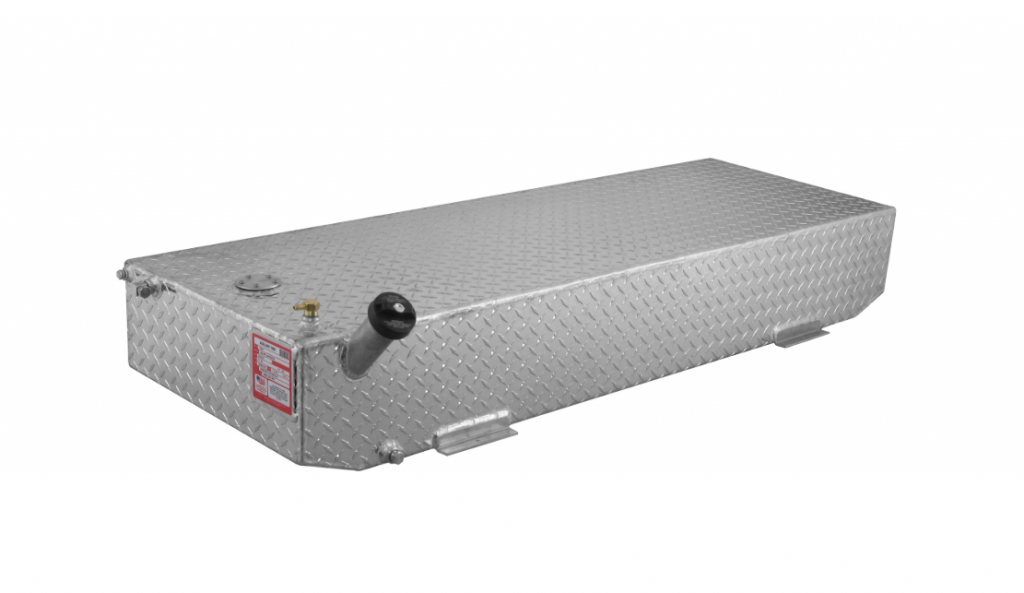 Camp Kitchen & Food Storage
Most people have been camping for a few days, some even longer, requiring some thought planning to decide what you will eat along the trail. What happens if you start thinking about food for a longer trip, say two weeks? Your needs will become greater, unless of course, you are ok eating freeze dried foods for long periods of time. Since food prep will be a must on your overlanding Tacoma adventures, it will be wise to consider something a bit more substantial than a Jetboil or MSR stove. 
Knowing that you will be outfitting your truck with many modifications that will be semi-permanent or permanent, why not look at a cooking solution that fits in to that category? A perfect example of this would be the Goose Gear CampKitchen 2.0. This bad boy will be attached to your flat bed and then extend out beyond your lift gate when you are ready to use it. When you are done, stow it back up and get on your way. It features both a cook top and refrigerator for smaller items.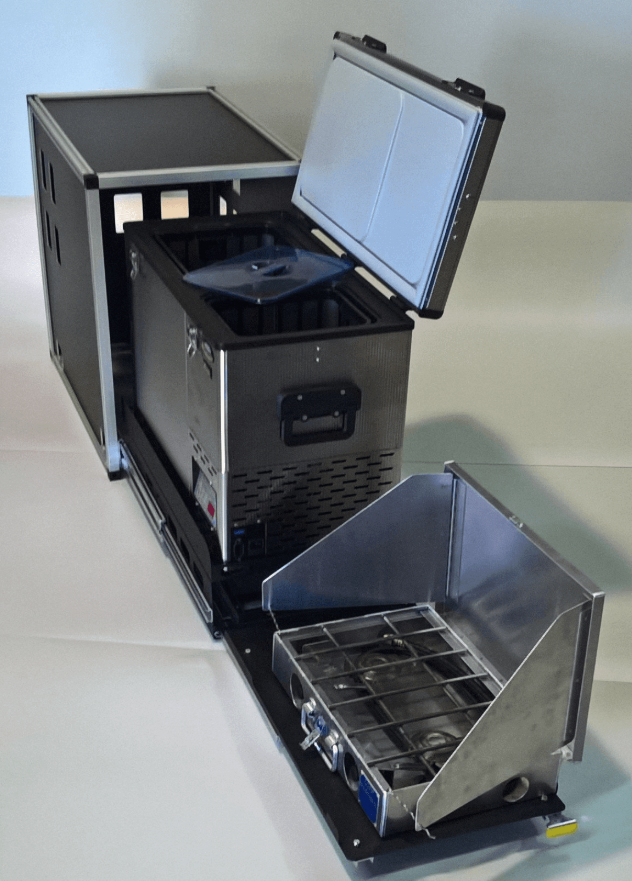 Overlanding Tacoma Truck Cap
With overlanding, storage is the name of the game and you are going to need as much of it as possible. While many will joke that a truck cap is for old timers and are not appealing to the eye, I beg to differ. Not only can the right cap double your bed storage, it can also look extremely cool with a full length roof rack. Besides, if you are getting in to overlanding, you probably really don't care what someone thinks about the look of your truck, you care about it's function.
There are TONS of different manufacturers to choose from when looking at a tuck cap. You will want to make sure that you pick something that is durable and also color matched to your vehicle to enhance the aesthetics of your ride. You may also be able to find some models made specifically for an overlanding Tacoma. 
Portable toilet
Ok, this last item is not a must have, but it will certainly make your trip more enjoyable if you are on the road for more than a week. While you can always head out into the desert, dig a hole, and do your business, you can also just bust out your toilet and impress your group. 
There are many on the market, so you can take your pick for what will fit your needs. 
There you have it, these are some of the top upgrades for your overlanding Tacoma that will help you hit the road in comfort. 
Image Courtesy of Shutterstock