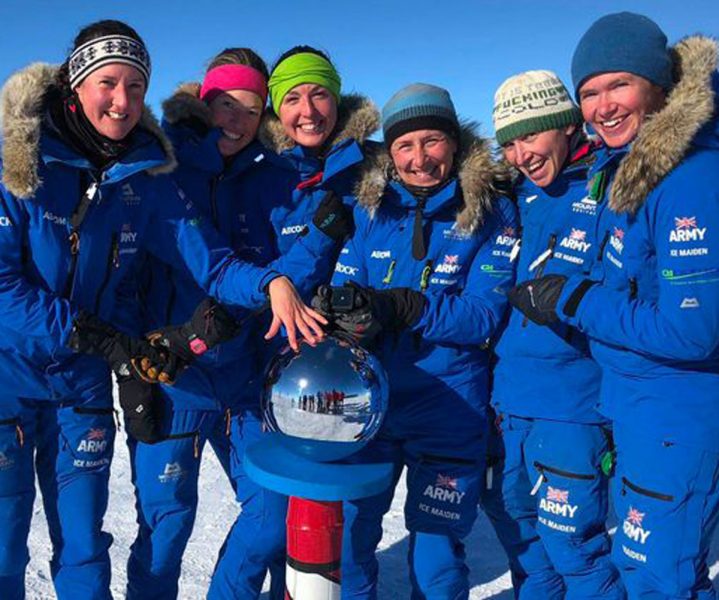 The 'Ice Maidens', as they've named themselves, comprises of an all-female team of six British Army soldiers who have made history already this year by becoming the first all-female team to cross the Antarctic by foot. They had to brave the fierce conditions with temperatures reaching as low as minus 40F while pulling 170-pound sleds.  
Speaking to the BBC, Major Sandy Hennis from the Royal Signals said "It was really key for me to be part of an all-female team because I really want to inspire other women — specifically women — to get out there and do things they wouldn't normally be doing, or think would be possible. We set what was an impossible challenge and achieved it, so anything is possible." 
They started their expedition on November 20th which would see them beginning their 1000-mile journey to finish 61 days later. Their voyage was originally thought that it would take 75-90 days to complete however, with a combination of determination and good weather, the ladies were well ahead of their target.  
Major Nics Weatherill said to the BBC "I'm just so incredibly proud of the team. I can't believe how far we've come. This journey has had good times, bad times and great times for all concerned, and each of them, I know, has made us better people." 
As well as aiming to inspire women, they used their expedition to raise awareness and money for two causes; Breast Cancer Care and the Army Cadet Force Association. Reflecting on the experience of a lifetime, Major Natalie Taylor said "I have spent the last few days trying to imprint this beautiful landscape in my mind. We have called it home for close to two months now and I will, in a strange way, miss it a lot. The snow sparkles like there is a layer of pearls on the surface and everywhere you look there is beauty and stillness. The photos just don't do it justice."