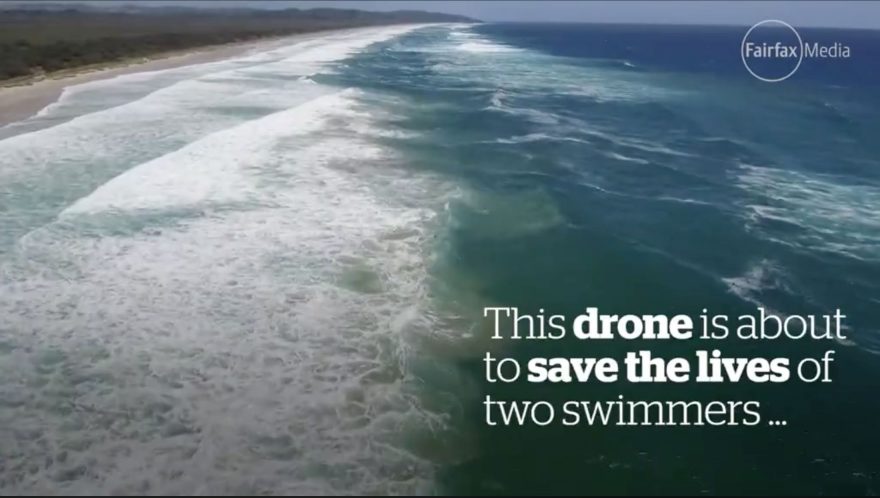 The first ever drone rescue of two struggling swimmers has been achieved in the seas of Lennox Head, New South Wales, Australia. On the 18th January, the drone was sent out to rescue the swimmers who were battling the breaking waves, cutting the rescue time from six minutes to an incredible one minute.
Lifeguard supervisor, Jai Sheridan, sent Little Ripper (the drone) out which hovered above the swimmers and dropped a floatation device for them to hold on to. This allowed the tired swimmers to float towards the shore and safety. Both of them were tired but unharmed. Since this was the first drone rescue, the whole thing was filmed.
"Speaking to The Sydney Morning Herald, Sheridan said The Little Ripper UAV certainly proved itself today, it is an amazingly efficient piece of lifesaving equipment and a delight to fly," Sheridan said, speaking to The Sydney Morning Herald. He went on to explain "I was able to launch it, fly it to the location, and drop the pod all in about one to two minutes. On a normal day that would have taken our lifeguards a few minutes longer to reach the members of the public."
The New South Wales government announced in December of last year that it would invest $430,000 (AUD) in drone technology. With a successful first rescue, it is proving that the investment into this area will pay off and we could be seeing more rescue attempts like this achieved worldwide. Alongside this, the NSW government also invested heavily into shark mitigation strategies which includes eco-friendly shark barriers, shark listening stations, and aerial surveillance technologies.
Deputy Premier and Minister for Regional NSW John Barilaro said "it's quite incredible to see that the NSW Government's investment in this technology has already resulted in two people having their lives saved."