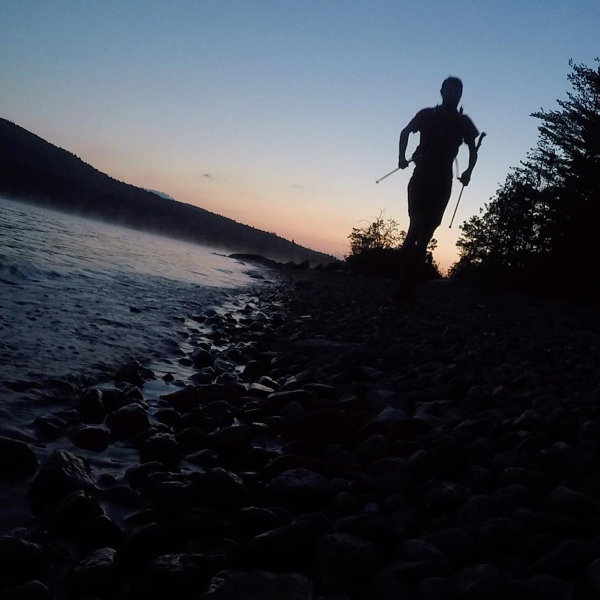 A well-known speed hiker set a new record on the Appalachian Trail on August 31st, hiking the 2,190-mile route in the fastest known time (FKT) of 45 days, 12 hours and 15 minutes. Joe 'Stringbean' McConaughy began the trail on July 17th at 6:31 am EST in Georgia, where he hiked the trail from South to North. His FKT is currently unofficial, but community-recognized officials that manage FKTs will most likely verify it in the next few days. If verified, McConaughy's record will beat both the supported and self-supported known records, beating the previous FKT set by Heather Anderson by an impressive nine days.
Even more astonishingly, it would mean that McConaughy beat the record of 45 days, 22 hours, and 38 minutes set in 2016 by renowned ultrarunner Karl Meltzer without any outside support. It would mean that he averaged an epic distance of about 50 miles per day. As per protocol, he announced his intentions to attempt the FKT on the AT, and also provided GearJunkie with a private link to his SPOT GPS tracking device so his endeavor could be verified.
Joe 'Stringbean' McConaughy is already well-known in the thru-hiker world, having already beaten the Pacific Crest Trail record, finishing the 2,660-mile journey in just 53 days, 6 hours and 37 minutes. McConaughy was also a collegiate runner, competing in track and field and cross country for Boston College, and he has now earned a reputation for superhuman endurance.
Thru-hikers that have completed the Appalachian Trail wonder how someone can blast through the rugged terrain at such speed, and some even wonder why bother. Setting an FKT misses the point of thru-hiking, where the essence of the adventure is slowing down and enjoying the views.
As only one in four of the thousands of hikers that start the Appalachian Trail complete the journey, McConaughy's record is something to be admired. His undertaking shoes remarkable mental fortitude and human endurance, boggling the mind as for how he could conquer such a feat with no outside help.
Congratulations to Joe McConaughy on his accomplishment, we look forward to seeing what you do next!
Image is from the Instagram Post