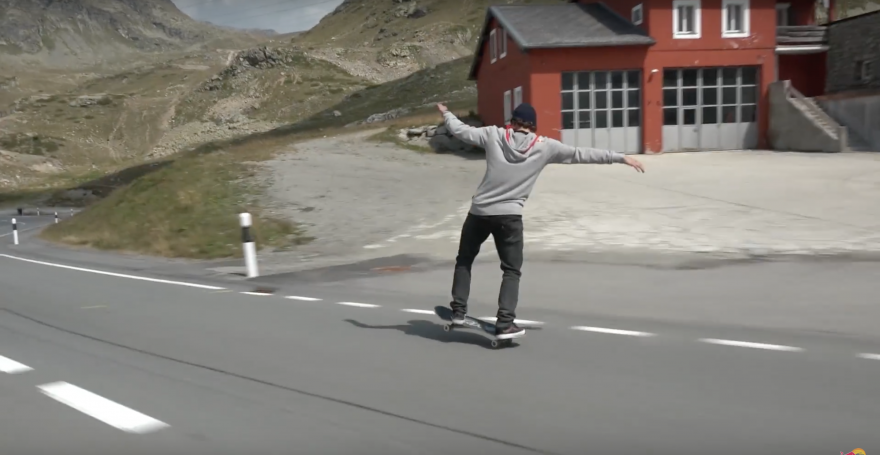 Swiss skateboarder Simon Stricker was recently on Passo Bernina, a road in Switzerland where he set a world record for the longest manual ever completed in a skateboard. A manual is similar to a wheelie performed on a bicycle, and it's a trick that involves balancing on only the two back wheels of the skateboard while it rolls along, meaning it requires some pretty solid balancing.
Stricker traveled for a record-breaking 1.3 miles, hitting speeds of 28 miles per hour, traveling at an average of 19.5 miles per hour. The Passo Bernina route took him around bends in the road and through long downhill stretches.
Passo Bernina is better known as a skier's gateway, but it recently acted as the backdrop for this amazing skateboarding feat. In order to beat the record, Stricker needed to achieve a distance of 1.5km on just two wheels, meaning his skateboard would need to be tipped upwards, facing a risky balancing act for the duration of the record attempt.
Before trying to break the record, Stricker explained that he couldn't "underestimate the speed" and warned of "overcoming different passages" of the route. In spite of all this, he managed to break the record and then some, after covering 2.173km. Once the feat was completed, he said: "As far as I know, this should be the world record."
The location was described by him as the perfect spot, as the surface is "relatively even, and an even downward slope – not too steep and not too flat."
Stricker began skating at age 10, growing up with a small clique of skateboarding friends that encouraged his love of skating. "I've always had fun with skating, learning new things… and it's also just really practical as a means of transport," he says. This record-breaking attempt was his latest collaboration with Red Bull, a sponsor with whom he has worked with on other projects, such as a tour of Ireland.
Image is a screenshot from the Youtube video