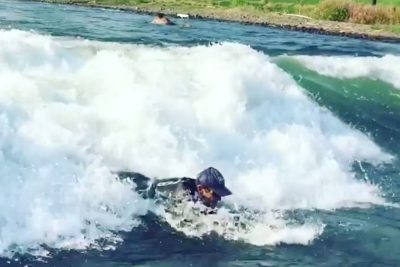 Trailblazing and Gerry Lopez are old acquaintances. When the Pipeline was first starting to get some serious surfers back in the late 60's and early 70's, he was the man to beat. He had an undeniable connection with the wave, and his finesse and prowess were the reasons he was named Mr. Pipeline.
Then, when the Pipeline, where he grew up, become too popular with surfers, he bolted for Indonesia, where he discovered what is now known as G-Land, a peeling, dangerous and long left-hand point break located Plengkung, an Indonesian natural reserve on the southeastern tip of Java. He and his friend Rory Russell have been credited for uncovering and validating Indonesia and its nearby areas as a comprehensive surf destination.
Once Indonesia got inundated with surfers, he moved on to Oregon and became a snowboarder. Lopez has long been acquainted with river surfing,  River surfing started gaining popularity, so he started body surfing in rivers instead. Lopez hasn't completely stopped river surfing, but a new video just popped up on his Instagram bodysurfing with a handplane in a river close to his home in Bend, Oregon.
Lopez has been river surfing for a while and knows all about the fun to be had in the rivers. He's a regular in the Bend, Oregon river surfing scene, stating that the river waves are perfect set-ups to bodysurf.
And, that's exactly what he did. Being the timeless style master that he is, Gerry Lopez bodysurfed the river while wearing sunglasses and a hat, his only other accessory is a handplane.
Bodysurfing river waves is nothing new, and Keith Malloy, an avid river body surfer even did a movie about it called "Come Hell or High Water". He continually body surfs the Yellowstone River in Montana and is committed to the sport.
However, there's no denying that when it comes to terms of style, Lopez is the one to beat.