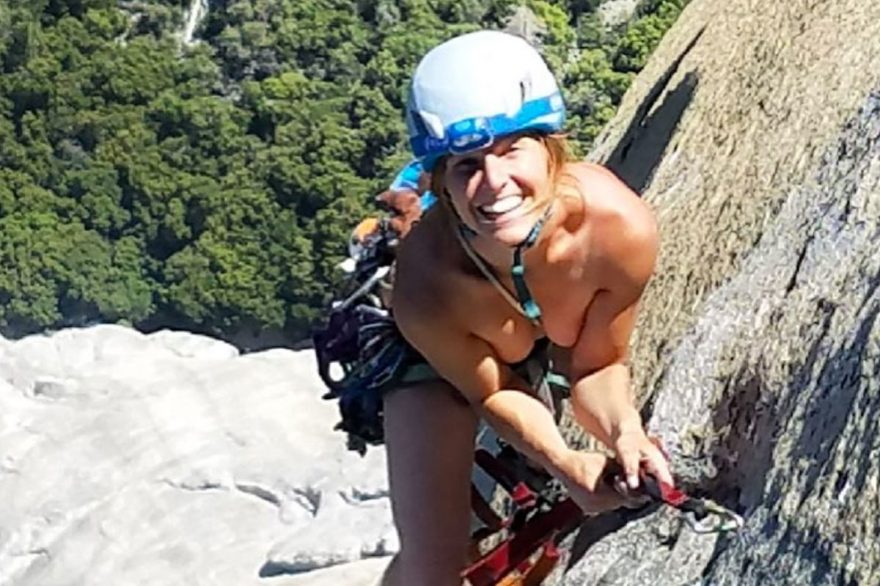 El Capitan, a vertical rock formation located in Yosemite National Park, California was the site of two firsts recently. Alex Honnold was the first to solo climb the colossal wall via Freerider, doing it with no gear whatsoever, but just the clothes on his back. A few days later, Jonathan Fleury and Leah Pappajohn traded their climbing clothes for a rope and accomplished the first naked ascent of El Capitan via the Nose.
Pappajohn said that it had always been a dream of her to climb El Capitan in the nude, but it took some years before she thought it was possible as she believed she needed to further her climbing ability. She finds climbing nude empowering, not to mention funny.
She searched for a fitting partner and found one in Fleury, who was an avid climber but had never climbed the Nose in one day. She made him do that first, thinking perhaps the arduous climb would hamper his ambition, but he was all-in the moment his feet were back on solid ground.
This is not Pappajohn's first nude climb, she most recently climbed Angel's Crest in Squamish, now her second longest naked ascent. It was not her first time climbing El Capitan either, as she had done it seven times previously, on three different routes. According to her, the only difference about climbing it in the buff was the ease of peeing at hanging rock outcrops and says it was easier and faster to climb, due to not carrying as much weight.
The hardest part of the climb she said, was to commit to it. Everyone seemed to have a different idea on what they thought the worst part would be: sunburn, chafing, getting scratched or being cold, but starting out at the base with no clothes on and just a rope ended up being in the worst category.
While she hasn't any more set plans for another naked ascent, she would like to see more naked climbers tackle formations like Lurking Fear and Zodiac. Oh, and if you climb Salathe while nude? You'll eternally earn her respect.