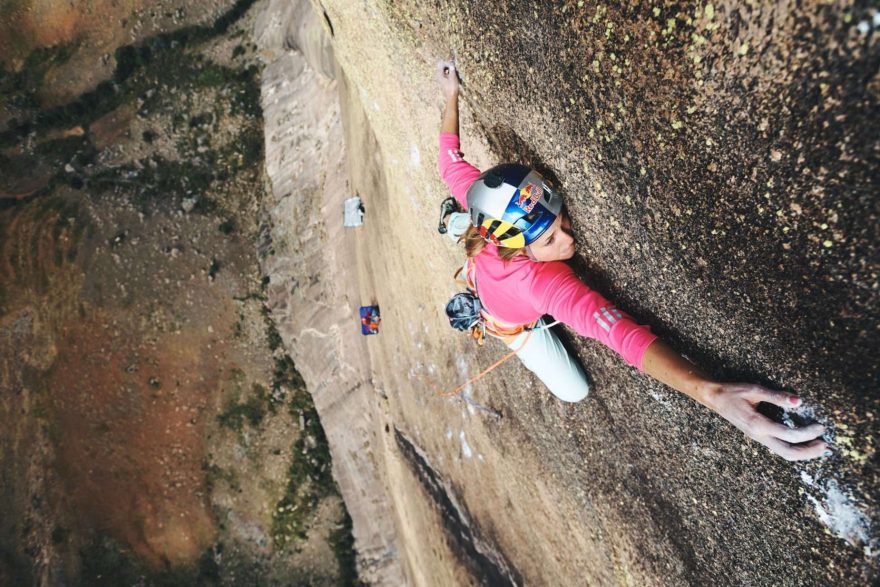 Mora Mora is a notoriously difficult climb. Tucked away in the remote Tsaranoro Valley, Mora Mora is a 12-pitch 5.14b (8c) climb that clocks in at 700 meters (2,300 feet). It is one of the most challenging routes in the world. First climbed by Francisco Blanco and Toti Vales in 1999, it has seen just one free climb since, by Czech climber Adam Ondro in 2010. On July 20th, Sasha DiGiulian became the second person to free climb the route along with her climbing partner, Edu Marin. The 24-year-old professional climber is the first female to free climb the route.  
Mora Mora means "slowly, slowly" or "take it easy," which is what the climbing duo did–spending 26 days climbing the various pitches along the route. They then completed the full ascent in just three days. Bringing all of their gear along with them for the final climb, they camped each night on their port-a-ledge. DiGiulian described the climb as, "Like a dance. Every foot placement needs to be laser-precise. Light breaths and slow movements, body positioning and trusting negligible little crystals."  
DiGiulian's accomplishments on the ascent are jaw-dropping, so are the resulting photos. DiGiulian and Marin were accompanied by photographer Francois Lebeau on their Mora Mora climb, check out DiGiulian, Marin, and Lebeau on Instagram to see some of the shots. 
Sasha DiGiulian is a household name in climbing. She became the first female to ascend Viaje de los Locos in 2014, the first ever to ascend Rolihlahla, the first North American woman to climb a 5.14d (9a) and to onsight a 5.14a (8b+). DiGiulian is also a 3-time U.S. National Champion, Female Overall World Champion, and reigning Pan-American Champion for a decade–not to mention that she is a graduate of Columbia University. If this is the first you're hearing about Sasha DiGiulian, we recommend keeping up with her climbs.