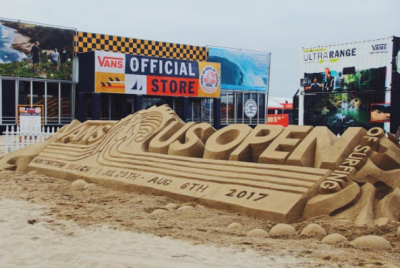 The Vans U.S. Open of Surfing, hosted in Huntington Beach, CA wrapped up on August 6th. WTC competitor and local surfer Kanoa Igarashi took the win at the Men's 1000 event for the World Qualifying Series. This event is known as being one of the largest surfing events of the year, attracting some of the biggest names in surfing.
The final day of competition was intense as the quarter finals got underway. New Zealand's Ricardo Christie was taken out by Igarashi in the first heat, and Josh Kerr from Australia was defeated by last years champion Felipe Toledo. The semi-final match up between Igarashi and Toledo was sure to be a nail-biter.
The other competitors in the semi finals were Carlos Muñoz from Costa Rica and Tomas Hermes from Brazil, who beat out crowd favorites.
The first heat of the semifinals started with an interference call for Toledo, meaning that while he would still get scored on his best single wave, the result of his second best score would only be counted by half. To compensate, Toledo threw down a few massive air-reverses to but it wasn't enough to beat Igarashi, who moved onto the finals.
The second heat featured Muñoz and Hermes to fight for a spot in the finals against Igarashi. In the end, Hermes came out victorious over Muñoz, with scores of 11.84 and 10.70 respectively.
Igarashi came out with victory on his mind for the final heat, earning a massive 9.63 ride compared to the couple of 4.0 rides scored by Hermes. Not content with that score, he moved on to a 5.60 ride and moved on to score a 7.60 ride in the last three minutes.
Igarashi grew up surfing in Huntington Beach, and it shows. It was his support and local knowledge that earned him the win in the Vans U.S. Open of Surfing.