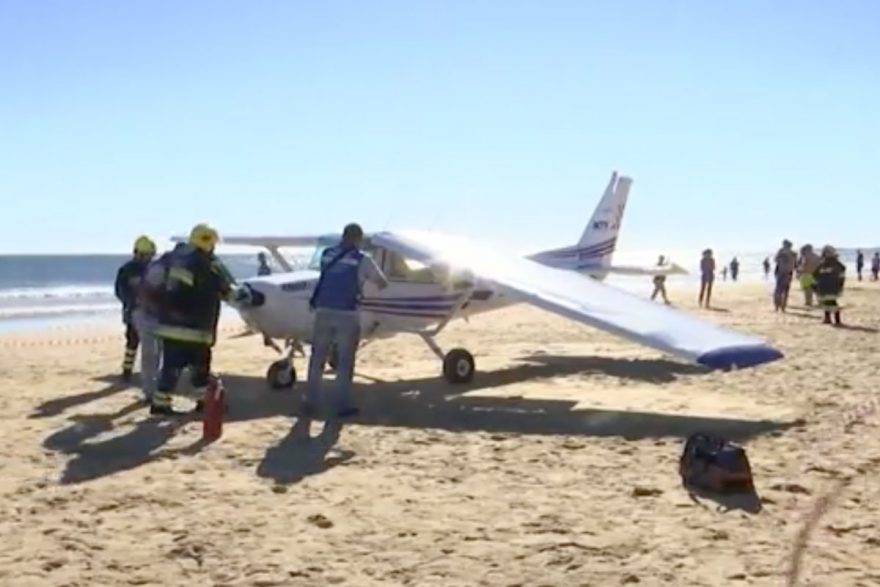 Two people have been killed on a busy beach during an emergency landing by an instructor pilot who was giving a lesson. The plane landed on a crowded Portuguese beach on Wednesday afternoon. The landing killed a 56-year-old man and an eight-year-old girl who were both enjoying the sun at Sao Joao beach on Portugal's Costa de Caparica coastline.
According to reports from the Daily Mail, onlookers were yelling "murderer" and some had to be held back by police. The police have now confirmed that the two in the plane have been taken for questioning.
The pilot, who is being branded as a murderer by some of the onlookers, has been described as very experienced, with hundreds of hours of flying under his belt. Witnesses have reported that it looked like the aircraft was experiencing difficulties, wobbling, and skimming low over those on the beach.
A witness, known as Mafalda, explained to a Portuguese paper "Those first moments were very tense. People wanted to attack the pilot and began to shout at him that he was a "killer". Everyone was really disgusted."
Lisbon Port police chief Paulo Isabel said in a statement that "Any loss of life is to be regretted but given the fact this plane came down on a beach with hundreds of people on it at the height of summer, we could have been looking at many deaths and many injuries."
It still doesn't seem clear whether there will be any sanctions faced by the pilot. It is fortunate that the death count from the incident was only two as it could have been much higher given how crowded the beach was that day.