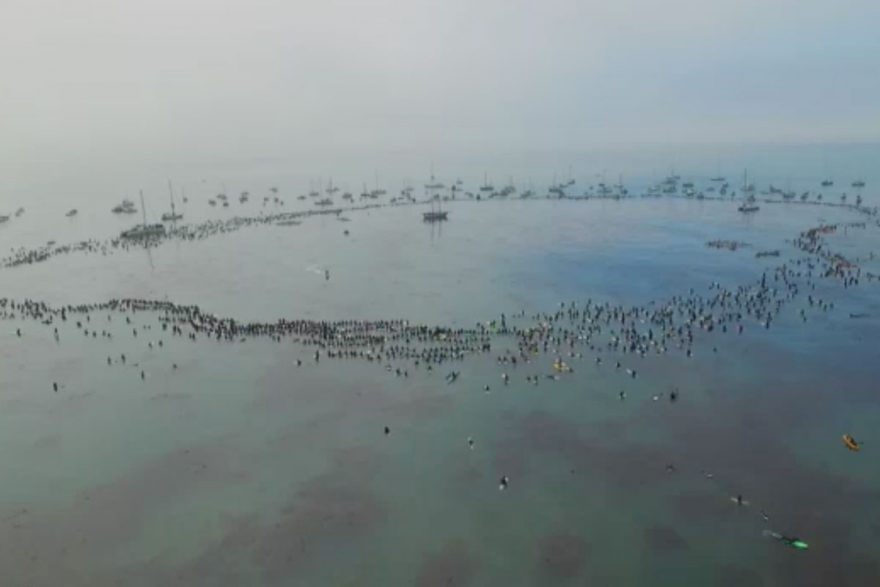 On Sunday morning, Pleasure Point welcomes thousands of people who chose to paddle out to honor Jack O'Neill, hailed to have invented the modern day wetsuit. Although a longtime resident of Santa Cruz, O'Neill had an impact on the world and there are paddle outs happening across different parts of the globe.
A paddle out is a memorial tradition to honor the passing of a fellow surfer in which surfers create a circle in the sea while they splash, whoop, and throw flowers into the water. Sunday 9th saw over a thousand people head out and form a circle which stretched for more than half a mile. Although there are no exact numbers on attendees yet, it is thought that there were around 2000 to 3000 paddlers who joined the circle.
O'Neill, recognized for his bushy beard and eye patch, has made a global impact through his hard work. His ideas and execution have enabled surfers to stay out for longer and venture into cold waters, undoubtedly shaping the way the sport of surfing has evolved over the years.
From a number of people who attended, it is easy to see the impact he has had on people, both through his brand and on a personal level. Pat O'Neill, Jack's son, explained "It's just amazing how the whole community showed up and became part of this. Just fantastic we're really, really happy."
Recently, O'Neill released a mini-documentary, also to commemorate Jack's passing, named 'I Knew Jack O'Neill'. The documentary gives us a look into Jack's crazy and impactful life.