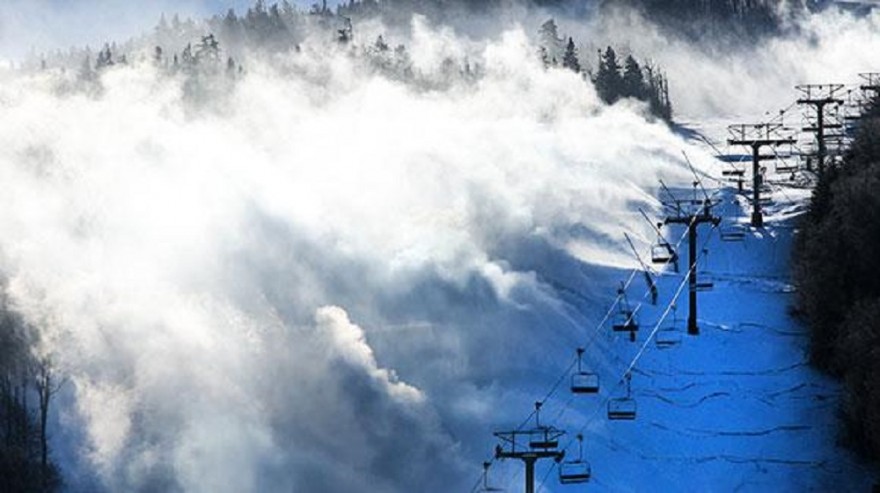 New England is getting a World Cup skiing competition next year.
Killington in central Vermont has been granted the green light to host women's World Cup giant slalom and slalom races on November 26-27, 2016.
Resort spokesman Michael Joseph told Vermont Public Radio they received confirmation from the International Ski Federation.
"It went from being proposed and heavily lobbied for to now we are on the F.I.S. calendar," Joseph told VPR. "So we're going to host a Women's World Cup race and we couldn't be more excited about it."
If all goes according to plan, U.S. Ski Team standouts Lindsey Vonn, Mikaela Shiffrin and Julia Mancuso could race.
USSA and Killington owner Powdr Corp. made the bid to the International Ski Federation which had an early October meeting in Zurich, Switzerland. USSA says it' was anticipated the bid would be put onto the draft 2016-17 calendar to be finalized in June.
The date was open because Aspen, Colorado which typically holds that time period's event is hosting the March 2017 World Cup finals.
This would be the first World Cup in New England since 1991 when U.S. Ski Team racer Julie Parisien of Maine won giant slalom gold at Waterville Valley, New Hampshire.
"An eastern World Cup will have great impact on our sport by bringing the best ski racers in the world close to our largest popular USSA members and fans," said USSA president and CEO Tiger Shaw. "Powdr Corp. has always been a strong partner for the USSA and we have confidence that Killington is well suited to produce an exceptional early season World Cup."
Shaw's no stranger to Vermont. The Olympian was born and grew up there. He attended New Hampshire's Dartmouth College just over the Connecticut River from Vermont and also was involved as both a junior coach and board member of a ski club that served skiers in both states.
The plan is to hold the race on the Superstar trail. Hit early and often by snowmaking, the run is typically the resort's last official open trail for the long season.
"We're going to have so many international teams in the state and in the region training head of this race that we expect that they'll be spending a lot of time at our neighbors too," said Joseph. "So it's be a big economic boost for Killington, central Vermont and probably the whole state as well."
The event would be broadcast to more than 60 countries, including national broadcast coverage across the country.
In other eastern news, it was revealed that a U.S. Ski and Snowboard Association training site coming to Mittersill at Cannon Mountain in Franconia, New Hampshire will host the NCAA championships in 2017.
Training is key to developing top World Cup and Olympic racers. The new training site in Franconia is on trails where Bode Miller, who grew up a few miles away in a house off-the-grid, used to ski.
Plans call for the site to host giant slalom and slalom events in the 2017 NCAA Championships. Since 2000, New England has hosted the championships seven times.
The facility is a public-private partnership between state-owned Cannon, the Franconia Ski Club and Holderness School.
Mittersill is a piece of New Hampshire history. It's got two iconic trails—Baron's Run and the Taft Slope. It was once owned by an Austrian baron and had a reign of prominence for a number of years before closing in 1984. The area reopened as a natural ski area under the Cannon umbrella in 2009-10.
The Franconia Ski Club dates back to 1933 and produced skiers like Miller and other Olympians Joan Hannah and Julia Ford, a Sochi Olympian.
Ford, a Franconia Ski Club alum who also attended the Holderness School, is excited about the Mittersill training facility.
"Mittersill offers a training opportunity not yet offered in the U.S., let alone the East," she said. "It is a racer's dream: hot laps, lots of terrain, hard snow—in an area that loves skiing and is passionate about racing. To me, Mittersill is an ideal place for diehard ski racers; a place to improve, unite teams and athletes, push development forward, and spread the love of ski racing in a region that is deep in legacy but has never had this level of a training opportunity."