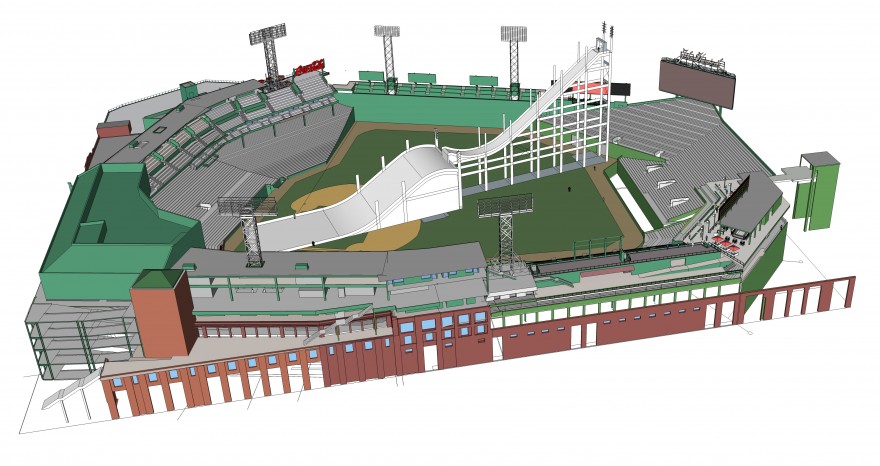 Talk about a wicked winta in the Pahk.
Venerable Fenway Park, home to the Boston Red Sox, will be the site of a U.S. Grand Prix ski and snowboard big air competition this winter.
In the stadium a few blocks from Kenmore Square, there won't be Dustin Pedroia, Big Papi, or Mookie Betts.
Instead, a monster 140-foot ramp will tower high above the Green Monster and ballpark lights and flow from centerfield to home plate with athletes like Olympic slopestyle skiing gold medal winner Joss Christensen, Olympic slopestyle snowboarding gold medalist Sage Kotsenburg and World Cup big air snowboarding competition winner Ty Walker, also an Olympian, taking flight.
Set to take place under the lights in 2016, the snowboarding competition is slated for February 11 and the skiing event February 12. They're calling it "Big Air at Fenway."
The U.S. Ski and Snowboard Association and Fenway Sports Management made the announcement at a September 22 press conference at Fenway along with Boston mayor Martin Walsh. Christensen, Kotsenburg and Walker were also there.
"Boston is home to some of the best sports teams in the country, and this winter we are proud to host the top talent in big air snowboarding and free-skiing for the U.S. Grand Prix tour at Fenway Park," said Walsh in a statement. "It is historic events like this that allow us to showcase our city to the world."
The big air event will be an officially sanctioned competition by the International Ski Federation and an integral part of the U.S. Grand Prix, the longest running winter action sports tour in America, bringing in many of the top big air athletes.
In big air, snowboarders and skiers do a single trick off a ramp and receive a score from a panel of judges.
NBCSN plans to televise the competitions.
"I've never seen this much buzz about a snowboarding contest before," said Kotsenburg. "With the Olympics coming up, it's a great time for us to have an event like this in the U.S. It's going to bring a rad audience, and to do it in Fenway Park is pretty unreal."
Olympic men's and women's snowboard big air will debut at the 2018 Winter Games in PyeongChang, South Korea. Big air skiing isn't an Olympic event, but both are in the Winter X Games. Men's snowboarding big air has been part of the FIS World Championships since 2003. Women's World Cup snowboarding big air was introduced last year at an event in Istanbul, Turkey. Walker, who grew up in Stowe, Vermont, won it.
"Big Air at Fenway is the latest in our efforts to bring dynamic and exciting events into Fenway Park for our fans and community all year round," said Fenway Sports Management president Sam Kennedy. "This type of event is a first-of-its-kind for the ballpark and provides will appeal to a younger and broader audience at Fenway Park."
Fenway isn't a stranger to events outside baseball. The stadium has hosted concerts, NHL hockey contests and in November will see Boston College and Notre Dame play in college football.
"Big Air at Fenway will be one of the largest events in the 20-year history of the U.S. Grand Prix," said USSA Chief Marketing Officer Michael Jaquet. "It will draw some of the most talented athletes in big air, including a brilliant group of Olympians and Olympic hopefuls. It will be a great show for spectators at Fenway Park and watching at home."
Big Air at Fenway will bring together the top 40 men and 20 women in the world to compete for a grand prize purse of $150,000. It will be the third big air stop on the FIS Snowboard World Cup tour and second stop on the U.S. Grand Prix tour.
"Being from Vermont and having this event in Fenway, at a place that holds such tradition and sports culture on the East coast, is really special to me," said Walker. "I'm really excited to have the opportunity to compete here and that my family and friends will be able to come watch."
Tickets will go on sale on November 12 at noon through the Boston Red Sox website, redsox.com/bigair.
Images courtesy of USSA