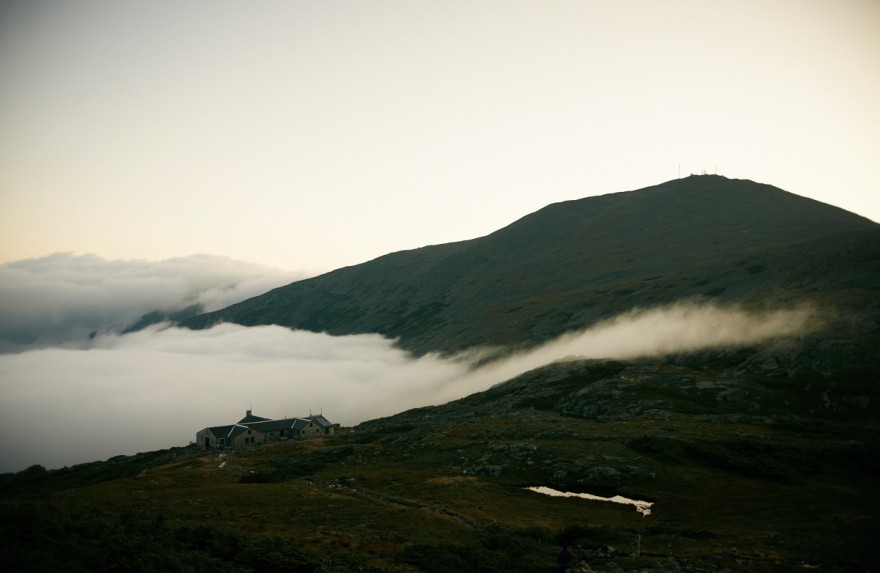 One hut on the shoulder of Mount Washington in New Hampshire is marking its 100th year of operating this summer.
Some four-and-a-half miles away, another is commemorating its 50th year of open doors for hikers in the White Mountains.
Lakes of the Clouds and Mizpah Spring Hut are two of the Appalachian Mountain Club's (AMC) eight mountain huts along a 56-mile stretch of the Appalachian Trail.
The AMC hut system—the oldest system of mountain huts for hikers in America—got its start in 1888 when the club built a stone hut at an elevation of 4,800 feet in the saddle between Mounts Adams and Madison in the Northern Presidential Range. The original hut is gone, but other versions of huts have been built in its place in intervening years.
Lakes, as it is called by many hikers, is traced back to the two small bodies of water outside its doors.
The Lakes of the Clouds are a pair of glacial tairns noted by Darby Field, the first European to climb New Hampshire's Mount Washington in 1642, as "2 litle [sic] ponds, 1 of a curious red colour, the other black." The rain-filled tiny lakes sits at 5,012 feet in a saddle below Mounts Washington and Monroe.
In 1915, the Boston-based AMC built a stone hut there in about two months with supplies ferried up the peak by the nearby Mount Washington Cog Railway and named it after the two tiny bodies of water.
It opened its doors to guests August 7 of that year. It will celebrate its 100th anniversary late next week.
And while Lakes commemorates its centennial, Mizpah Spring Hut turns 50.
Mizpah is the youngest of the hut clan. Construction commenced in 1964 and a dedication ceremony on July 10, 1965 announced its first season at about 3,800 feet in elevation below the summit of 4,312-foot Mt. Pierce in the southern Presidential Range.
It's easy to see why Lakes—often referred to incorrectly as Lake of the Clouds—is a popular place, and on a peak summer weekend may feel more like Lakes of the Crowds with its beehive of activity, from those spending the night in the 90-person facility to those giving their feet a rest and purchasing a snack.
"Located above treeline, and offering expansive western views, it's a great place to watch the sunset," said AMC public affairs director Rob Burbank.
Of course hiking is the way to get to the hut, but what's unique is that trekkers can also arrive at the summit via railway or the Mt. Washington Auto Road and then traipse down 1.5 miles to it, making it a day trip destination, too.
Hikers can reach the hut from the west with a 3.1-mile trek on the Ammonoosuc Ravine Trail and from the east some 4.6 miles via the Tuckerman Ravine Trail and Tuckerman Crossover. Both are rugged undertakings.
Those trekking to Mizpah from Lakes will find it by traveling from Crawford Path to the Webster Cliff Trail in under three hours.
Mizpah is a fine base camp for exploring glorious Mounts Pierce, Eisenhower, Jackson and Webster. Reached via a relatively short and forgiving 2.4-mile hike along the Crawford Connector, Crawford Path and the Mizpah Cutoff in Crawford Notch near the AMC's Highland Center, the aptly named hut means "pillar in the wilderness."
Burbank says Mizpah Spring Hut was built with steel arches to withstand 200-pound snow loads and 200 mph winds.
"It was the first multistory hut, incorporating a sitting room and small library on the second floor," he said. "It helped bridge the gap between the Presidential Range huts and those in the Western Division—Zealand Falls, Galehead, Greenleaf, and Lonesome Lake huts—and provides a good stop-over point for a night's rest if you're hiking from Zealand to Lakes or vice-versa."
The huts are off the grid and operate with environmentally sustained systems like wind and solar power. Lodging, meals and educational programs are provided, powered by enthusiastic and youthful "croo" members often also colorful entertainers and characters themselves who may be singing "Happy Birthday" to not only guests but also at times to the huts they're all in.