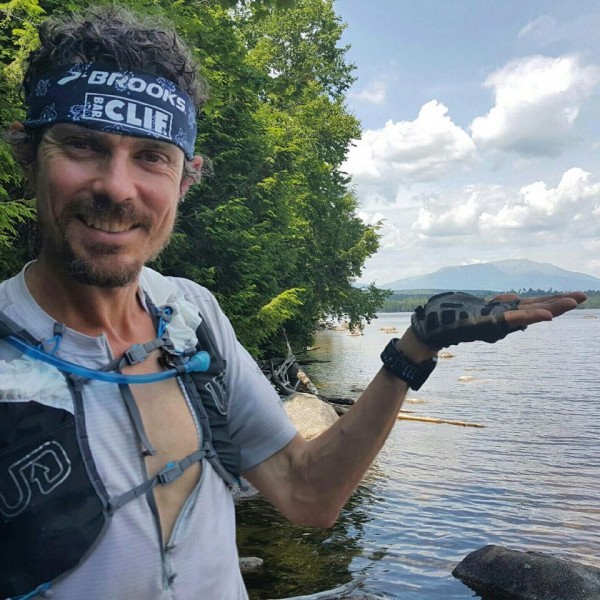 Now he can get some sleep.
When Scott Jurek reached the top of Maine's Mount Katahdin in Baxter State Park July 12 and wearily embraced the weathered sign at its top, he could lay claim to owning the record time for completing the entire 2,185-mile Appalachian Trail.
He did the journey from Georgia to Maine in 46 days, 8 hours and 7 minutes, beating the previous record set by Jennifer Pharr Davis in 2011 by some 3 hours.
"I can't believe I made it to this sign," said Jurek, 41, to Runner's World.
Jurek, an ultra-runner and vegetarian, left Springer Mountain in Georgia on May 27 and made his way over a multitude of rough and rugged terrain in 14 states.
He ran, like a mountain man Forrest Gump, through sweltering heat and humidity, muck and mud, rain, bluebird days and cool nights. Jurek crossed streams and rivers, and climbed more than two dozen mountains.
He also had some personal doubts along the way as to whether or not he could make it and also played through some knee pain during the early stage of the journey, slowing him down a bit.
Jurek, an ultra-marathoner who also owns the record for running the most miles in 24 hours at nearly 166, did the run with little sleep, getting only about 10 hours total over the last four days of the trek.
Jurek, of Boulder, Colorado,  had a support van along the way with his wife Jenny who joined him on the stretch up Katahdin in central Maine. Friends came along during the trek for inspiration too.
At the mountain's top he kissed the sign and popped open a bottle of champagne in celebration.
"The biggest thing I'm looking forward to is putting my feet up, being home and enjoying some downtime," he told the Associated Press.
He averaged about 50 miles a day.
Jurek doesn't do much competitive running anymore. This run is his finale before starting a family.
An advocate for pushing oneself to the next level, he kept pushing himself during the odyssey.
"That's what makes it a true adventure. It was about pushing my body mentally and physically but also going into that unknown space," he told the AP. "Anybody can do that. It may not be on the Appalachian Trail or running a marathon. It's putting yourself in a situation that's a challenge to find that source of strength that you didn't think you had."
Davis, the former record holder, tweeted her congratulations to Jurek with a photo of her holding a frosty cold one.
"Congrats @ScottJurek and Jenny and your entire team!! You put on quite a show. Very inspirational! Enjoy and SLEEP!!"
According to the Appalachian Trail Conservancy, between 2,500 and 3,000 people try to hike the entire trail each year. Called thru-hikers, only about a quarter of the complete the trek from start to finish.
The ATC suggest that thru-hikers take between five and seven months to complete the entire journey. They also carry food, water and supplies in their backpacks, something Jurek didn't do because he had a support van.
"Completing the entire 2,185 miles of the Appalachian Trail in one trip is a mammoth undertaking," says the ATC website, "It requires great determination and commitment, but can potentially be accomplished by anyone with the ability to walk. That's not to say hiking it is easy. The footpath of the A.T. is far more rugged than most anticipate, given the soft and gentle profiles of the mountains and relatively low elevations."
Jurek told Runner's World the trek made him "shredded to the core."
I didn't know how much more I could give," Jurek told the magazine. "This trail has a way of doing that to you. You find strength that you never thought you had. That's why I do this stuff. At the other end of that deepest darkest place, there's an ease and joy on the other side.
"Somehow I made it through, and that's something everybody can take home. Maybe they don't have to go from Springer to Katahdin, maybe they don't need to be crazy like me, but they can find that strength in other ways."
And sleep.