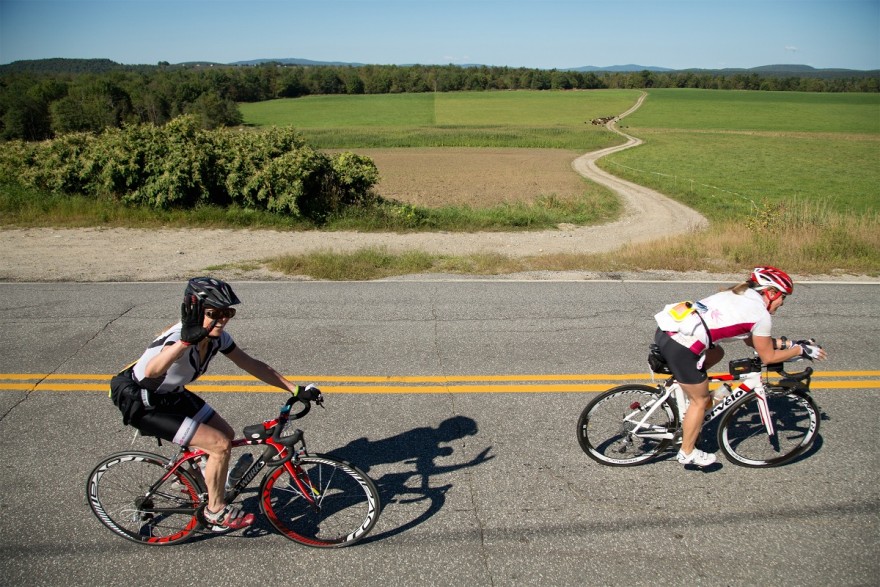 You've got to love how some of these cross-state bike tour vacations began.
Take Iowa.
Now in its 43rd year, the RAGBRAI or Register's Annual Great Bicycle Ride Across Iowa dates back to something of a challenge between a newspaper editor who was an avid cyclist and a columnist. The editor suggested the columnist ride a bicycle across Iowa and write about that from a unique perspective. The columnist agree, but only if the editor rode with him. Some friends tagged along and a tradition was born from the Des Moines Register.
Well, now not only are their rides across states, but many rides across regions of states. Though this year's  RAGBRAI is already sold out, there are some other rides that might fit the bill for a touring vacation with the rolling masses:
There's a new weeklong bike tour of the Adirondacks in upstate New York. Hosted by the non-profit Wildlife Conservation Society, the inaugural ride August 23 to 29. The ride goes through Adirondack State Park and passes though towns of Star Lake, Boonville, Camden, Old Forge and Long Lake.
The WCS mission is to is to promote wildlife conservation and vibrant communities through science, community outreach and education.
The ride is capped at 600 riders and is designed to highlight the natural beauty and environmental assets of the region. The start and finish is in Lake Saranac. With options, riders will between between 400 and 500 miles.
Cost for the full week is $1495. cycleadirondacks.com
The name's been changed but not the vibe. Formerly Mass BikePike Tour is now Cyclist Massachusetts, a 7-day bike tour through the Bay State's Pioneer Valley and Berkshire foothills. The ride takes in small town New England with towns like Northampton, Greenfield and Hardwick. Riders choose between 30-40 miles and 45-70 miles per day with an optional century ride and 70-mile spin around the wonderful Quabbin reservoir.
"In addition to creating an enjoyable vacation experience, we're delighted that this ride reinforces the fact that bicycle tourism is a viable – and low-impact – income stream for small-town Massachusetts," says ride director Bruce Lederer.
The ride is from August 1 to 7 and is a camping tour that includes hot showers. The start and finish is Northampton. Cost is $795 for full tour with options. www.cyclema.com
A relative new kid on the block, the Bicycle Coalition of Maine's third annual BikeMaine 2015 tour takes cyclists from the sea to the mountains and back. The 7-day, 350-mile ride features a mobile tent village where cyclists can stay while also providing options for more sturdy accommodations in town. Included in the right are overnights in towns like Kittery, synonymous with L.L. Bean, and Bethel, home to one of the East Coast's major ski resorts in Sunday River.
"In selecting overnight communities, we focus on towns that have a vibrant town center and a capacity and willingness to handle hosting and feeding our riders and volunteers in the downtown," said ride director Kim True. "Once we have lined up the towns, our Ride Committee scours the region, confers with local bike shops and clubs, and creates a route that is approximately 55 miles a day in length, is on quiet back roads, and offers vistas and points of interest along the way."
Riders have ranged in age from 25 to 81and have come from 35 states and 5 countries. The ride is September 12 to 19.
True says it is not a race, it is a touring vacation. Cost is $875. ride.bikemaine.org
Supporting the League of Michigan Bicyclists, the 29th annual Shoreline West Bicycle Tour showcases the beauty of Lake Michigan with its memorable climbs, undulating hills and forgiving flats. Sand dunes, orchards and wineries are part of the tour that has a 7-day nearly 400-mile route and a 3-day 160-mile spin. With a cap of 500 riders, mileage is a good 60-plus a day. The week-long spin starts in Montague and finishes in Traverse City while the 3-day option rolls from Traverse City to Mackinaw City. Overnights are spent camping outside schools and a civic center. And as the organizers say in the rider information packet, "RIDE! The tour is much more enjoyable if you have been practicing."
7-day cost is $365 www.lmb.org