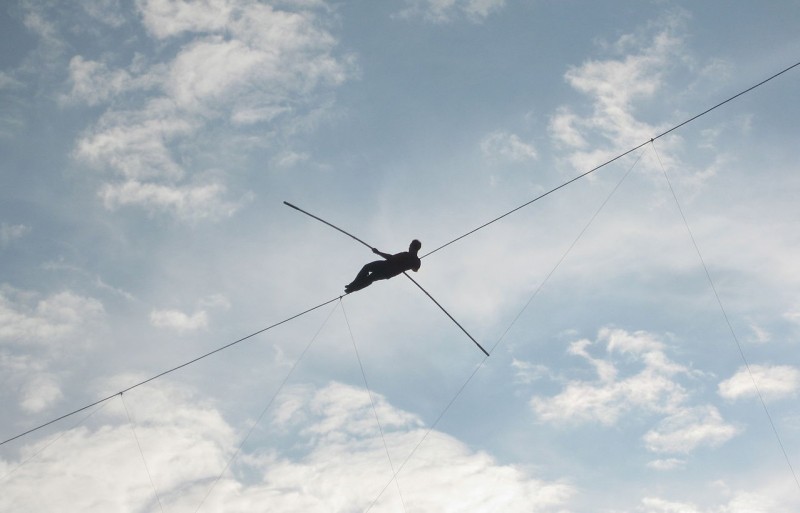 Nik Wallenda recently announced his plan to walk across a tightrope between two 65-story skyscrapers in Chicago—without a harness, while blindfolded.
This stunt, which will be just one of many for Wallenda, can been viewed on Discovery Channel at 7 p.m. on November 2 and will also be livestreamed on SkyscraperLive.com. The tightrope walk, which will span roughly two blocks, will be divided into two parts. During the first, Wallenda will walk the tightrope wearing a blindfold. The blindfold will then be removed for the second part, with the daredevil walking the rope on a 15-degree angle. It will be the first time he will attempt to walk a tightrope at such a steep angle.
More specifically, the two-block walk will span from Marina City's west tower and across the Chicago River to the Leo Burnett Building.
Raised as a seventh-generation member of The Flying Wallendas, Wallenda began performing circus acts as a child, eventually becoming a top-notch aerialist and acrobat. With a nickname of King of the Wire, Wallenda has a fair number of successful stunts on his resume. In 2012, he walked across a tightrope stretched over Niagara Falls, although he was required to wear a safety harness in order for approval to be granted.
During an appearance on the Today show, Matt Lauer asked Wallenda the simple question of, "Why?"
"It's my passion, it's what I love doing," Wallenda answered. "Chicago, the Windy City, that was, believe it or not, very alluring to me. Most people would think a wire walker doesn't want to go to the Windy City, but I enjoy the challenges."
Image courtesy of Dom497/Wikimedia Commons