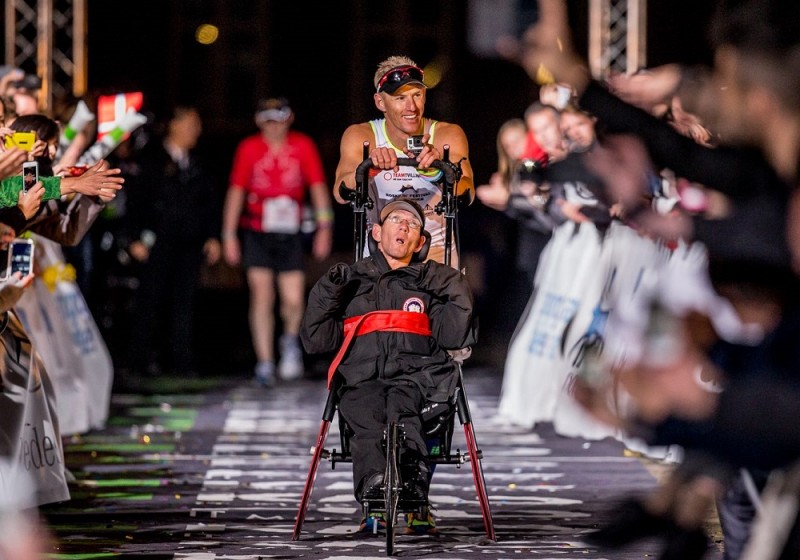 On Sunday, twin brothers Steen and Peder Madrup made history when they crossed the finish line at the KMD Ironman in Copenhagen to thunderous applause. What made the feat so extraordinary was that Peder was born with cerebral palsy, and has spent the last 34 years of his life in a wheelchair. The completion of Sunday's grueling event made him the first person with CP to have completed an Ironman.
"For the first time I felt [like] the person I see myself as: A regular participant rather than 'someone in a wheelchair,'" Peder said after the race.
Born three months premature, Peder suffered from a lack of oxygen at birth that resulted in his condition. But he has never allowed CP to limit him. Instead, Peder has been an active spokesman for the disabled, encouraging others to get involved in all aspects of normal life.
Even so, when his brother Steen first came to him with the idea of racing together, Peder was skeptical. Steen had recently failed to complete two Ironmans on his own, so he turned to Peder for inspiration. When they heard about father-son duo, Team Hoyt, who have completed more than 1,000 U.S. races together despite son Rick's CP, the brothers decided to attempt racing as a team. Peder's positivity and determination provided the extra push Steen needed. Together, with the assistance of a running wheelchair, the brothers successfully completed their first half marathon in 2013, crossing the finish line in two hours and 16 minutes.
They went on to complete another half marathon and a half Ironman before deciding to attempt the full event. "Steen has the legs, and Peder has got the brains, thus the perfect combination for an athlete with iron will," they explained on their website.
Team Tvilling, as they refer to themselves, completed the course on Sunday in 15 hours, 32 minutes, and 48 seconds. With the help of some specialized equipment, Steen was able to pull Peder on a raft while swimming the 2.4 miles, then cycle the 112 miles on a bike attached to a lightweight running wheelchair before finally running the marathon, pushing Peder in his running wheelchair the whole way.
"It is a little harder than a normal race, but Peder has had so many challenges in his life, and you will never hear him complain." Steen said. "If I can give Peder the feeling of not sitting in a wheelchair for a few hours, then I will do whatever it takes. I feel like I am really lucky because he has caused me to see the positive in life."
Similar to Team Hoyt, Team Tvilling plans to travel and spread awareness about CP. To learn more, visit their website.
Image courtesy of Team TV/Facebook