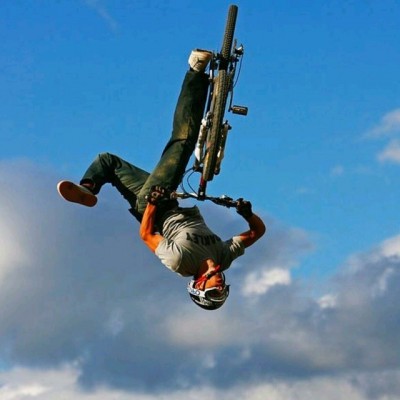 Mountain biker Cam Zink succeeded at claiming the Guinness World Record for longest bicycle backflip distance at the base of Mammoth Mountain Ski Area in California last Thursday. The jump was a massive 100 feet, three inches.
Zink reached a speed of 48 miles per hour during his 910-foot approach, which sent him over an 80-foot dirt gap. Immediately following his success, onlookers took to social media with the hashtag #MammothFlip.
"It's like a dream, I mean, just popped off and I was like 'holy moly' I forgot how long I'd be in the air," he told ESPN. "I still felt comfortable but I'm like, 'Man I'm just staring at the sky forever' … it's a long flight."
This jump not only landed Zink in the record books, but it also broke the unofficial record for the jump at 78 feet, which Zink set 10 months ago at Red Bull Rampage.
"People have asked why I'm going to do anything more this year. I think my sponsors would be happy with me taking time off," he told ESPN. "But I don't want to take a break. I'm so excited about riding right now. I feel so confident and comfortable on my bike. There's just so much I want to do, so many tricks. And who knows, maybe we can go 150, 200 feet. This is just the beginning."
Image courtesy Cam Zink/Facebook