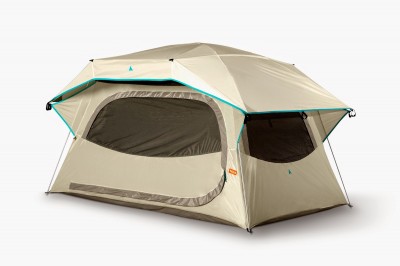 Car camping brand Ticla is still rather new in the outdoor industry, but that's not holding them back from becoming a one-stop-shop in their niche. For next spring, the brand is expanding into additional accessories as well as tents that maintain great views of the outdoors, even with the rainfly assembled. Read on to learn more about what Ticla will be introducing for next spring.
TeaHouse 4
This tent was created for the camper who requires both a great view and ventilation while outdoors. The TeaHouse comes with a durable rainfly that still provides great views, shock-corded aluminum poles that can withstand the elements, materials tough enough to handle kids and dogs, as well as the G.O.O.D. system for easy packing and unpacking.
Good Love Lantern
Rather than compete with other outdoor brands in an attempt to create the brightest light, Ticla is making it clear the goal is to create ambiance instead. "This lantern cannot be seen from space. REPEAT, cannot be seen from space," the product description jokes. The lantern ranges from seven lumens to 220 lumens, and the choice is left up to what kind of mood the camper is in. The Good Love Lantern can be charged via USB or four AA batteries.
Shado Pequeño
This partial tent is perfect for being outside, but getting a bit of protection from the sun at the same time. It's a shelter ideal for days spent at the beach, or even during outdoor soccer games. It doesn't take long to set up, and the movable/removable wall can be easily hooked and unhooked. The material is durable, as are the stakes.
Dexter Kit
Making camp cooking simple is the Dexter Kit. It's a place to organize all of your utensils and cutlery, all in a simple roll-up design. The pockets allow for all utensils to remain visible for easy access, yet the webbing and buckles keep everything secure.
Keepsake Kettle
This one is simple—it's your classic kettle. Ticla promotes this as a must-have product that is so durable, you'll only have to buy one in your lifetime. It's stainless steel and sturdy.
To learn more about Ticla, visit the website and check out my feature story about the company.
Images courtesy of Ticla/Pale Morning Media