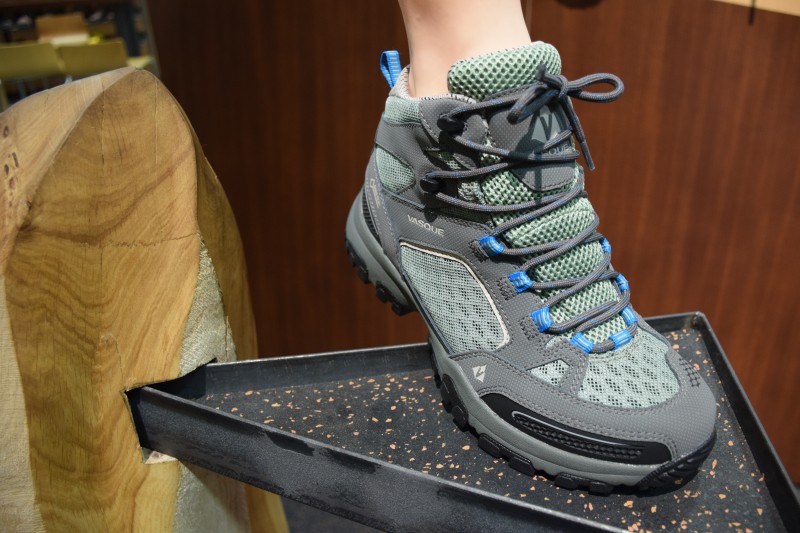 During this year's Outdoor Retailer Summer Market, Jordan Reed from Darby Communications walked me through the new collections from Vasque, which will be released next spring. The brand is expanding its hiking line with the introduction of the Inhaler Collection, as well as its trail running line with the Trail Bender SST and Pendulum II.
Hiking
To create the Inhaler Collection, Vasque looked to the needs of long-distance hikers. The shoes features ultimate breathability and comfort, but the designers still made sure to include plenty of stability. The shoes are available for both men and women in a high and low version. The high version features GORE-TEX, and the low is available with or without GORE-TEX. The shoes include a structural ventilation of mesh, making them extremely lightweight, with air-permeable toe and heel counters for increased air flow. It also features the Vibram Pneumatic outsole and Megagrip rubber for ideal traction.
The high version is called the Inhaler GTX, which is available in two colors for men and two colors for women, all retailing at $159.99. The Inhaler Low also comes in two colors for men and two colors for women, and retail for $139.99 for the GORE-TEX version and $119.99 for the non-GORE-TEX shoe.
"The Inhaler Collection fills a niche in the performance hiking category that has been missing," Brian Hall, director of product development, said in a news release. "We've taken what we have learned from long distance thru-hikers and applied it to a shoe that we expect to be as popular for them as it will for day hikers and those going out for weekend excursions."
In addition to the Inhaler Collection, there will also be an updated version of the Breeze Low—the Breeze Low 2.0. It will be available with GORE-TEX for $149.99 and without for $129.99.
Trail Running
New to the trail running line are the Trail Bender SST and Pendulum II, both of which are made for rocky, root-covered trails. First, the Trail Bender SST is a maximalist running shoe with EVA pods and four millimeter PU foam footbeds. It has a mesh upper and lacing system for a secure hold, available for both men and women in two colors each, retailing for $139.99.
The Pendulum II has many of the same features as its predecessor, but with performance updates for those looking for lighter, faster features. It's not necessarily a minimalist shoe, but more so a middle ground between minimalist and maximalist. The shoe is available in a GORE-TEX option for $149.99 and non-GORE-TEX for $119.99.
"We are expanding our offering of endurance trail running shoes to cater to different running styles and shoe preferences," Hall continued. "The trend [toward] maximum cushioning makes sense for running long on trails, yet we know others prefer a middle path with just enough cushioning and protection. Our Spring '15 line delivers versatile options to suit a variety of endurance runners."
To learn more, check out the Vasque website.
Image by Ariel Black