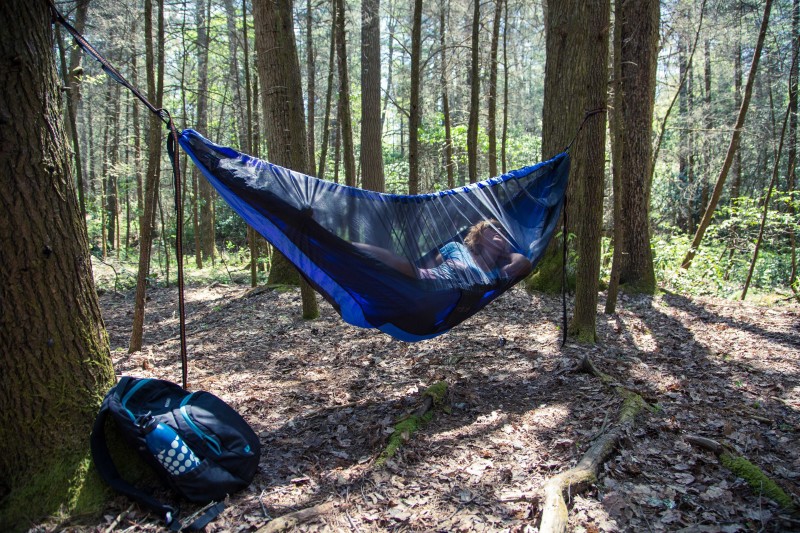 I was able to meet up with Natalie DeRatt from Eagles Nest Outfitters, Inc. to check out all of the brand's new products during last week's Outdoor Retailer Summer Market. New to the line is the Guardian SL Bug Net, the AIR POD Hanging Chair, the CamoNest Hammock, the Ember 2 Underquilt, the Islander Beach Blanket, and the Moonshine Lantern.
"ENO began in 1999 by two brothers from Florida," DeRatt said. "It's very much a grassroots company—they began by going up and down the East Coast selling hammocks at music festivals and community gatherings, and we still do that program, but since then, hammock camping as a whole has just taken off. Now we have all these accessories, beach blankets, and insulation."
Guardian SL Bug Net
Ideal for the minimalist backpacker, the Guardian SL Bug Net is essential when it comes to hammock camping. It is 20 percent lighter than its predecessor, the Guardian, and features a sleeve-like shape that works with any ENO hammock. The mini ridge line and cord locks will keep all bugs out of your sleeping area with easy internal adjustment.
AIR POD Hanging Chair
Similar in style and function to ENO's line of hammocks is the new AIR POD Hanging Chair. Simply attach the tear-drop shaped chair to a nearby tree, sit back, kick your feet up on the footrest, and relax. For 2015, the fabric will be changed to a lightweight, breathable parachute nylon, with additional color options as well.
CamoNest Hammock
To appeal to the hunting market, or simply those who want to blend into nature, ENO created the CamoNest. The hammock is constructed of breathable, quick-drying nylon and for users who want more space, there's an XL version as well. It is available in three camo patterns—Forest, Urban, or Retro. It can hold up to 400 pounds, yet weighs a mere 16 ounces and comes with an attached stuff sack.
Ember 2 Underquilt
If you're hammock camping in colder temperatures, you're going to need more insulation—that's where the Ember 2 Underquilt comes in. It is polyester filled and can be attached under your hammock. For 2015, there will be new colors, decreased prices, and a simplified elastic cord for easy set up.
Islander Beach Blanket
Perfect for a campsite or day on the beach is the Islander Beach Blanket, which features small loops on each corner so the blanket can easily be staked down (it comes with the stakes too). It's made of a parachute nylon that's easy to wash, and packs down extremely small because of its material.
Moonshine Lantern
The Moonshine Lantern is an easy way to turn a camping trip into a party. These lights feature small hooks that allow them to be easily attached to a cord that can hang above your hammock or in the campsite. The lanterns are available in an array of colors, and emit that same color in light. They're also versatile and can be used as a lantern or flashlight with slight adjustments, featuring four lighting modes.
To learn more, check out ENO's website.
Images courtesy of ENO