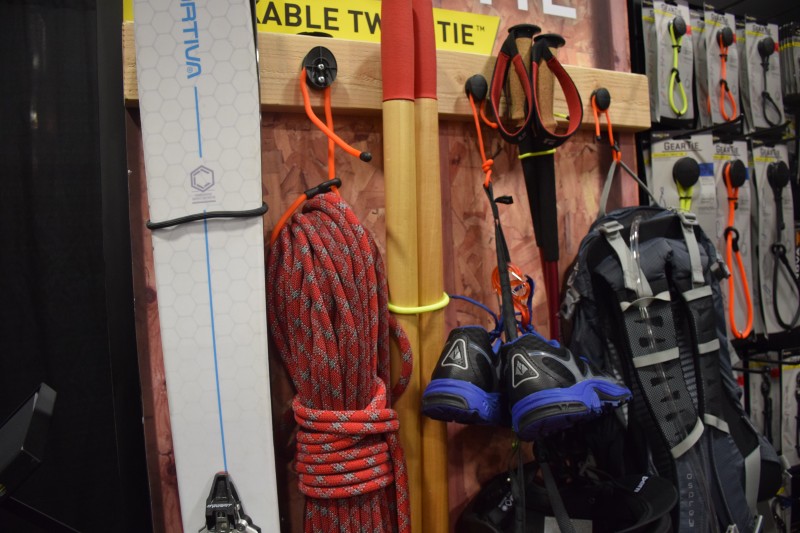 I'll be honest in saying I didn't know too much about Nite Ize before visiting the company's booth during the Outdoor Retailer Summer Market last week. Sarah Niklas from Terra Public Relations showed me all of the new products, and I began to realize how simple yet brilliant most of them were. Nite Ize creates the things we don't think about—the best way to store our skis in the summer, how to effectively mount your smartphone on your bike's handlebars, and reflective wristbands to wear while running at night.
Although the accessories are relatively small, the brand's collection is quite expansive with its more than 400 products to choose from. Niklas ran me through some of the new collections, such as the Gear Tie Dockable Twist Ties, the Gear Tie Clippable Twist Ties, and a new Multi-Tool Line. Check out more information about the three collections below:
Gear Tie Dockable Twist Tie Collection
To help expand its line of popular Gear Ties, Nite Ize is introducing the Gear Tie Dockable Twist Tie, which can be seen in the above image. These products "take garage and workroom organization to a whole new level." Users can attach the mount to any surface for storage of skis, shoes, ropes, packs, etc. "The dock is constructed with a grooved V-shape opening that will securely grip a Gear Tie, with an integrated loop at one end of the Gear Tie, to firmly hold all of your favorite tools and toys for easy storage and accessibility."
The Gear Tie Dockable comes with either a 12-inch Gear Tie that will hold up to 10 pounds, or a 24-inch that will hold up to 25 pounds. They are available in black, bright orange, and neon yellow, with the 12-inch retailing for $5.59 and the 24-inch retailing for $6.99.
Gear Tie Clippable Twist Tie Collection
For this line, Nite Ize combined two of its most popular products—the #4 S-Biner and the 24-inch Gear Tie. This collection provides a tangle-free way to organize, store, and travel with any load of gear. "Wrap the Gear Tie around everything from extension cords and garden hoses to sporting goods to fishing rods, then clip to a hook to store them securely and conveniently," the product description states. "Or, clip the S-Biner to anything with a D-ring or loop, and wrap the Gear Tie around bars, hooks, or handles—it works both ways."
The Gear Tie Clippable comes with a 12-inch or 24-inch Gear Tie in either black, bright orange, or neon yellow. The 12-inch with a #2 S-Biner retails for $4.49 and the 24-inch with a #4 S-Biner retails for $5.99.
Multi-Tool Line
The brand is also expanding its line of multi-tools with the DoohicKey QuicKey and the DoohicKey SkullKey. Both are made of stainless steel and are ideal for opening boxes, cutting tags, sawing through twine, and also work as bottle openers.
Features:
File
#2 flat-head screwdriver
Scoring point for opening boxes and packages
Serrated edge to saw through twine and clothing tags
Bottle opener
QuicKey Multi-Tool $7.99
SkullKey Multi-Tool $8.99
To learn more, check out the Nite Ize website.
Image by Ariel Black