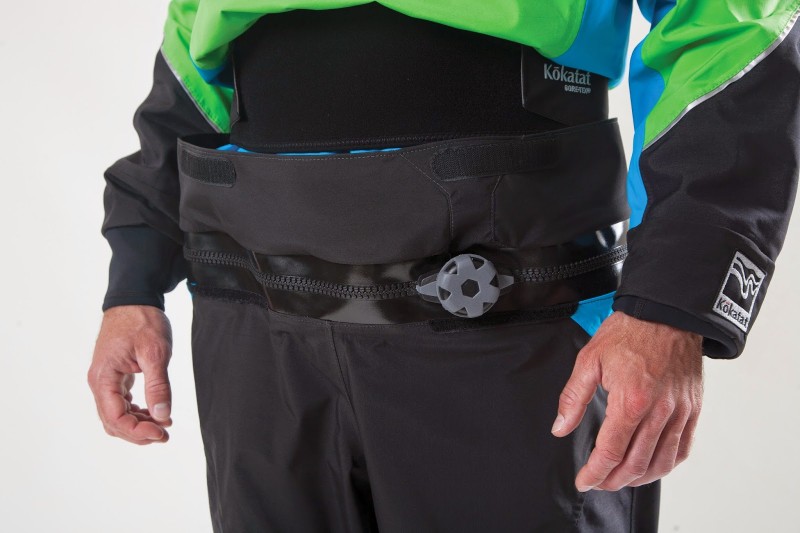 With a focus on providing paddlers with the most advanced safety equipment, Kokatat relied heavily upon customer advice in the creation of its latest products, the Poseidon PFD and its new SwitchZip technology.
In order to create the Poseidon, Kokatat blended popular features of their previous best-selling PFDs into a new PFD geared toward those looking for the ultimate touring product, said Michael Collin from Pale Morning Media.
"Sea kayakers have been asking us for more carrying versatility and with the Poseidon, they have a PFD that they can tailor to meet their personal needs," Sales and Design Manager Jeff Turner said in a news release.
The Poseidon is a front-zip PFD that includes two removable front-zip chest pockets. Additional pockets and accessories can be purchased separately, so each user can fully customize their PFD. Specifically for the Poseidon, users can purchase the Full Chest Pocket and the Quick Release Belt accessories. Both the Belly Pocket and Tactic Pack are new accessories that fit both the Poseidon as well as other Kokatat PFDs.
Of its current accessories, the Tributary Hydration System, Maximus Prime Electronics Sling, and Touring Tow Tether can also be used to accompany the Poseidon.
"The Poseidon features articulated shell and foam panels and an integrated hydration sleeve in its low-profile back panel," the product's description reads. "For unsurpassed comfort, fit, and mobility, the Poseidon has eight front and center webbing adjustments and wide, contoured neoprene shoulder straps."
The new PFD will be available at select paddling retailers in January 2015. It will be approved by the United States Coast Guard, Transport Canada, and the European Union.
In addition to the Poseidon, Kokatat will also be releasing the GORE-TEX Idol dry suit with SwitchZip technology. The technology allows for the suit to be completely separated at the waist, providing users with versatility because of its waterproof zipper system.
"This gives everyday and expedition paddlers the ultimate in gear flexibility," Turner said. "No longer must they choose between a dry suit and dry top for the day—the Idol provides the best of both."
The Idol will be available in both men's and women's versions through Kokatat's online custom dry suit program, GIZMO.
To learn more, visit the Kokatat website.
Images courtesy of Pale Morning Media/Kokatat