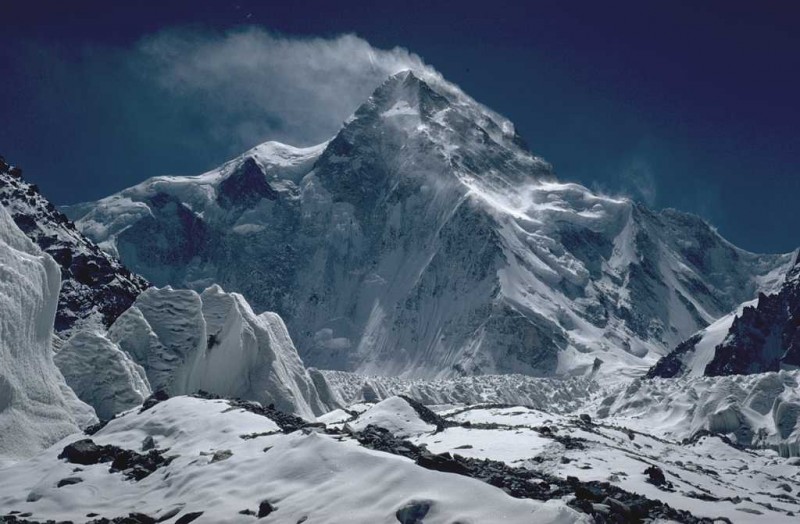 Thanks to a weekend of uncommon good weather on Pakistan's K2, around 30 people were able to summit the otherwise notoriously difficult peak. Sitting at 28,250 feet, K2 is the world's second tallest mountain next to Everest. Characterized by severe terrain and weather, the peak has gained the nickname "The Savage Mountain." In addition, it has one of the highest fatality rates at 30 percent, according to The Independent.
While Everest's popularity stemmed from easier climbing conditions that have allowed more than 6,000 people to summit the mountain, only about 300 have reached the peak of K2. But between July 25-27, there was not much new snowfall and winds were low, creating ideal climbing weather. Although the reports are still unconfirmed, a number of new records were set by the groups who were able to complete the climb.
Alan Arnette became the oldest person to summit K2 at 58, who was climbing to raise funds for Alzheimer's research and awareness. "This climb is everything it is made out to be," said Arnette, according to Outside. "The traverse at the Bottleneck was one of the scariest things I've ever done in my life. It truly was a 90-degree angle."
In addition, a group of seven who were headed for the summit may be the first expedition of Nepali women to have reached it. Another group of climbers became the first Pakistanis to reach the summit, BBC reported.
Image courtesy of Kuno Lechner Marine Corps/Wikimedia Commons