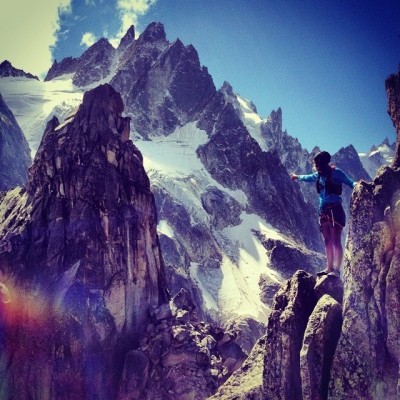 In the last few years, CLIF Bar has established itself as one of the premier outdoor enthusiast brands. With the release of innovative new products, CLIF Bar has become a staple in the diets of many climbers, hikers, and other outdoor lovers. A big reason for the company's overwhelming success isn't linked to its high-quality products, however. It is CLIF Bar's determination to engage its core audience, as well as its demonstration of responsibility to nature and the community the company seeks to serve that truly sets it apart.
It's this drive that inspired CLIF Bar to launch its newest initiative last month, Meet the Moment. "A large part of our company culture has been sharing our adventures with each other, and we wanted to expand that," said Project Manager Rachel Klipp. "We created Meet The Moment to help create a community where athletic adventure could easily be [shared], and to hopefully help inspire and spark new adventure."
The social media campaign, which encourages people to share photos of outdoor adventures with the hashtag #meetthemoment, is much more complex than your average social media movement. The biggest push for the program is the company's commitment to donate $1 for every hashtag submitted to one of their Meet the Moment nonprofit partners. Since the promotion will run for seven months, CLIF Bar has chosen seven nonprofits, one for each month—International Mountain Biking Association (June), American White Water (July), Leave No Trace (August), Surfrider Foundation (September), Access Fund (October), WinterWildlands Alliance (November), and Protect Our Winters (December).
"We are a brand that loves the outdoors and is committed to protecting the places we play," Klipp explained. "We have been deeply involved in certain sports for many years, including climbing and cycling, and the nonprofits we work with for Meet The Moment reflect those relationships and tie back to those communities."
To further facilitate involvement, all 17 CLIF Bar flavors will feature adventure challenges on the packages to inspire consumers. Challenges like, get your feet wet, embrace the elements, change your altitude, or dive in are nondescript, and therefore open to interpretation. "Our hope is that the 20 Adventure Challenges we put on CLIF Bar wrappers will give people a spark of inspiration to see where their adventures will take them," she said.
CLIF Bar athletes have also gotten involved, uploading their own photos to CLIF Bar social media as they take on adventure challenges. "I travel the world in search of my next great climb. My idea of adventure might be very different from someone else's, which is what's cool about Meet the Moment. It gets you thinking and hopefully inspires you to try something new," climber Alex Honnold said of the program.
He, along with big wave surfer Greg Long, snowboarder Jeremey Jones, runner Dakota Jones, and surfer Lakey Peterson are just some of the notable adventurers meeting the moment and helping raise money for charity. "Surfing's connection to the ocean and the environment is truly unique. I don't take that for granted and, as it has given so much to me, I want to give back." Peterson said. "I like that CLIF Bar plays a hand in supporting that idea on a bigger scale."
Already almost two months into the program, Klipp said she could not be more ecstatic about the response so far. "Meeting the Moment is different for everyone—it's incredible to scroll through the online gallery and see how people 'meet' these moments," she said. With more than $4,000 donated to the International Mountain Biking Association in June, and already more than $3,000 for American Water raised this month, CLIF Bar is on track to make a big impact.
To get involved, visit the website and share your moment on Instagram, Twitter, Facebook, or Google+.
Images courtesy of CLIF Bar/#MeettheMoment