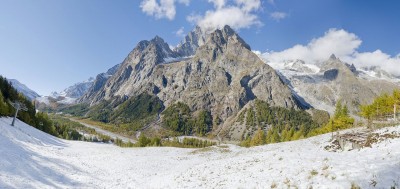 The body of Patrice Hyvert was found last week on Mont Blanc after he went missing at the age of 23 in 1982. The climber, who aspired to eventually become a guide, was completing a solo ascent of Nant Blanc and intended to ski down the Couturier corridor when a snowstorm stranded him in early March of that year.
While another hiker was rescued by helicopter a few days after the storm cleared, the extended search for Hyvert was unsuccessful. Last Thursday, two climbers came across his body on Talèfre glacier.
"We identified him straightaway," said Captain Patrick Ribes of the Chamonix gendarmerie rescue service, according to Outside. "He still had his ID papers on him, and all his equipment, including his skis."
Hyvert's 82-year-old father, Gérard, expressed mixed emotions about the discovery of his son.
"I can't say that it came as a relief. I would have preferred him to have stayed up there," he told Le Parisien, according to The Guardian. "Mountains were his passion. I thought I would be dead before they found him."
Hyvert's ashes will be scattered on the glacier where he was found, following a memorial service in Chamonix on July 17.
Image courtesy of Zoharby/Wikimedia Commons