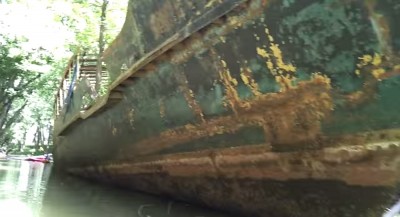 Adventure kayaker James Malott and some friends set out on an expedition down the Ohio River recently and ended up coming across a modern-day ghost ship. What makes the find so interesting is the history behind this broken-down relic. The 186-foot vessel is more than 112 years old, and remains almost perfectly intact.
Named The Celt by its 1902 architects, the boat was originally a private yacht. But when WWI began, it was commandeered by the Navy and renamed the USS Sachem. The once luxury yacht was then outfitted with torpedoes and other marine-war weapons to aid in the defeat of German U-Boats.
After the war, the boat fell into the hands of Thomas Edison, who spent time aboard conducting experiments in New York Harbor, and then sailing the boat to the Keys. He would return it to the Navy, who in turn returned it to the original owner, Captain Jacob "Jake" Martin of Brooklyn, New York. He depended on the ship as a fishing vessel in order to survive the Great Depression.
Once the U.S. entered WWII, the ship was reclaimed by the government and renamed the USS Phenakite. It spent the entire war training soldiers for battle.
Its final purpose was as a tourist ferry for the Circle Line company. Its title, Circle V, is still barely visible on the ship's hull. Madonna even filmed her video for "Papa Don't Preach" on the boat deck before it was eventually retired and laid to rest on the Ohio.
Though the boat had been bought by a man in the Cincinnati area who hoped to restore it, it has remained untouched for more than 30 years. It now casts an eerie silhouette over the Ohio, rotting slowly as a shadow of its former glory.
Check out the video the explorers took below:
Image and video courtesy YouTube user TheGh0st81