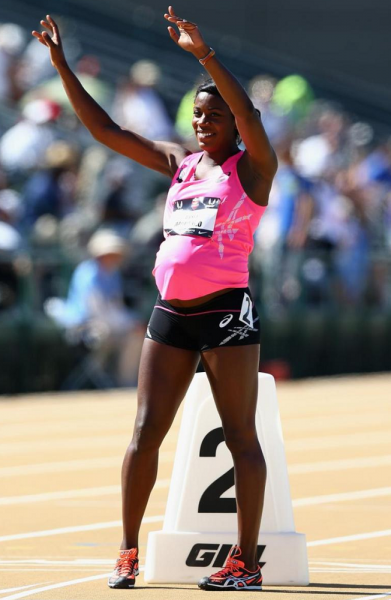 Last week's USATF Outdoor Championships was full of star performances. Former World Champion, Jenny Simpson finally claimed her first title in the 1,500-meter, while veteran Bernard Lagat gained yet another win in the 5,000-meter, earning him his seventh national title.
But in a weekend filled with stories of triumph, perhaps the most noteworthy came from an athlete who wasn't even seeking a win.
Former Olympian, Alysia Montano made all women proud on Thursday when she competed in the 800-meter, despite sporting a 34-week pregnant belly.
"I've been running throughout my pregnancy and I felt really, really good during the whole process," Montano told The Associated Press after the qualifying heat. "I just didn't want to get lapped and be the first person to get lapped in the 800."
Montano stuck to a physician-approved plan, running a comfortable but slower pace that put her almost 35 seconds behind her personal best of 1:57.34 in 2010. But when she crossed the finish line at 2:32.13, everyone in the crowd was on their feet.
Montano's father, who comprised just part of the Montano family cheering section, told the press after the race, "Look at her belly hanging out, I'm super proud."
Though there is always heavy debate about what exercises should be carried out while pregnant, Montano's doctors encouraged her to compete. "I know there is a lot of stigma and really, the word is ignorance, behind pregnant women and exercising," Montano explained to CBS LA's Rachel Kim in a Skype interview. "The truth is, it's good for the mom and the baby."
Montano did not qualify to move on this year, but her racing career is far from over. After giving birth, the mother-to-be plans to return in full force and hopes to earn a spot on the roster for Rio's 2016 Summer Olympics.
Image screenshot of YouTube video by PatrynWorldLatestNew