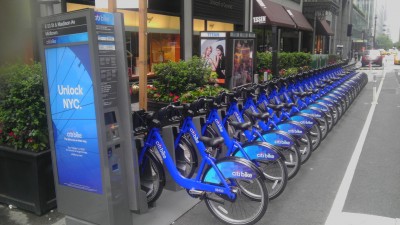 In an effort to get more children on bikes at an earlier age, Paris recently launched a bike-share program created specifically for children. P'tit Velib' began on June 18, modeled after its parent program, Velib'. P'tit Velib' is the first bike-share program of its kind.
The new rental stations are available to children two through eight years old, and they have the opportunity to choose from four different models of bikes, as well as a helmet. Unlike the adult program that costs 29 euros ($39) per year for an unlimited pass, P'tit Velib' is a bit expensive. The cost begins at 4 euros ($5.44) per hour for kids. In addition to the cost difference, the children's program also has limited hours, while the adult bike-share is available 24/7.
"We wanted this habit of riding a bicycle, the cycling experience, to be learned at the earliest possible age and that young Parisians pick up the habit at the earliest opportunity," said Jean-Francois Martins, who is in charge of sport and tourism at city hall, according to The Associated Press.
Only 300 kids' bikes are available right now, but that number is likely to expand with growth of the program. In addition, these bikes must be returned to the location where they were initially rented, unlike the adult program, where the bikes can be returned at any station. This is because of the wide range of children's bikes available that are made to suit different needs—ensuring there are enough of each model at each station.
Image from Jim.henderson on Wikimedia Commons