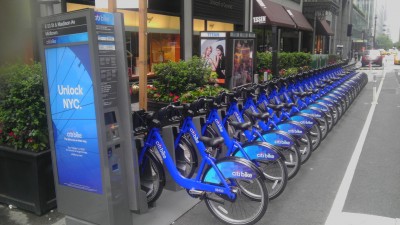 According to a recent study published in the American Journal of Public Health, researchers found that those who live in cities with a bike-sharing program have a 14 percent greater risk for procuring bike-related head injuries than those who live in cities without a program.
The study, "Public Bicycle Share Programs and Head Injuries," was published in the print edition of the journal on June 12. The objective was to evaluate the effects of bike sharing programs in North America—most of which do not offer helmets with rentals—and determine how many bicycle-related head injuries occurred. The study was completed by Janessa M. Graves, Barry Pless, Lynne Moore, Avery B. Nathens, Garth Hunte, and Frederick P. Rivara, all of whom live and work in either the United States or Canada.
"The study basically confirmed our worries," Graves told NPR on Thursday. "Public bike-share initiatives are great wellness initiatives […] But without providing helmets, we were concerned that we would see an increase in head injuries. And we did."
Researchers analyzed data from trauma centers regarding bicycle-related injuries in five cities with bike-sharing programs, as well as five cities without programs. "We used logistic regression models to compare the odds that admission for a bicycle-related injury would involve a head injury 24 months before PBSP implementation and 12 months afterward," the abstract reads.
Before bike-sharing programs were instituted, the number of head injuries was 42.3 percent of the whole of bicycle-related injuries. After programs were implemented, that number rose to 50.1 percent.
In conclusion, the researches have made the recommendation that all bike-sharing programs should begin to offer helmets with each bike. "Helmet availability should be incorporated into [public bike sharing programs] planning and funding, not considered an afterthought following implementation," researchers stated.
Image from Jim.henderson on Wikimedia Commons