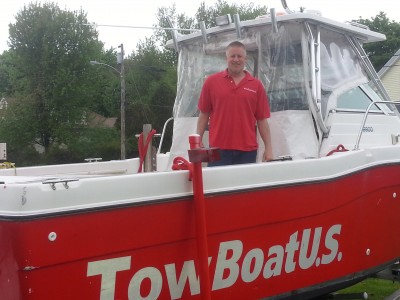 With its magnificent rocky coast, quaint islands, thousands of prop-tangling lobster-pot buoys and frequently changing weather, the waters off Portland, Maine, are both a thrilling and a challenging boating venue. And no one knows those waters better than Capt. John Urbano, the new owner of TowBoatUS Portland.
Urbano, a Casco Bay native, started boating there at the age of six, owned his own boat by the time he was 12 and has spent last three years working as a captain for TowBoatUS Portland. When the previous owners decided to sell, Urbano was ready to buy the business so he could keep doing what he likes doing best – helping boaters who have a breakdown, need extra fuel, get a line around their prop, have a soft grounding or need any other routine on water assistance.
Much like an auto club for boaters, TowBoatUS offers nationwide on water towing plans for saltwater boaters and anglers for just $149 a year that includes BoatUS or BoatUS Angler membership. Without a towing plan, boaters face costs that average $600 per incident nationally.
Urbano, a former accountant who holds a US Coast Guard Master License, says he now has the perfect life – working on the water in spring, summer and fall, and spending his winters working at a ski resort. And he knows the value of the service he provides, firsthand. He was a TowBoatUS member before he became an owner. He remembers calling for assistance when an engine cut out when he was moving a boat from New Jersey to Maine a few years ago. "In the end, I was able to dock the boat myself on one engine, but having TowBoatUS there to lend a hand if I needed it was very reassuring," he said.
The company's two boats, a 26-foot Seaswirl with a 225-horsepower Yamaha outboard and 23-foot Mako with the 200-horsepower Mercury, are based at Portland Yacht Services. Both are painted a distinctive red with the words "TowBoatUS" on the side and are fully equipped for most any kind of boater assistance with strong towing bitts, state-of-the-art electronics, dewatering pumps, extra fuel and "jump packs" to handle dead batteries. Urbano and another USCG-licensed captain, Jason Phippen, who also worked for the previous TowBoatUS Portland operator, are on call 24/7 to help anyone in need in the Casco Bay area. Many calls, Urbano said, come from out-of-state cruisers who are headed Down East and need a fuel drop or some other assistance.
Boaters can contact TowBoatUS Portland by hailing on VHF channel 16, calling the company directly at 207-200-3524 or calling the BoatUS toll-free 24/7 Dispatch Service at 800-391-4869. Assistance can also be summoned via smartphone with the free BoatUS Towing App, and BoatUS is also the only towing service that offers satellite messaging services with the SPOT and inReach satellite communications services. To see the company's location on a map, go to www.BoatUS.com/portland.
Image courtesy TowBoatUS