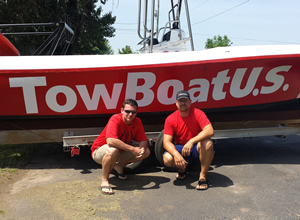 Lake Oconee, in central Georgia hasn't been the same since Capt. Jerry Mitchell opened his new on the water towing service this spring. Three bright red boats, with the words "TowBoatUS" emblazoned in white letters on the hull, have been cruising through every nook and cranny of the 20-mile-long lake.
"This is a new service for this lake," Mitchell said. "We're doing everything we can to let boaters know we're here to assist them if their boats break down, run out of fuel, need a battery jump or do a soft grounding. We're ready and able to help 24/7." So far, Mitchell and the licensed captains who work with him have been busy with early season breakdowns.
"This is Georgia," Mitchell said, "So most people don't think to winterize their boats. But when you get an unusually cold winter like the one we had, there can be problems." In its first months of operation TowBoatUS Lake Oconee has jumpstarted batteries, towed boaters who have lost a prop, had trouble with their steering or had problems on account of watery fuel.
Much like an auto club for boaters, TowBoatUS offers on the water towing plans for freshwater boaters and anglers for just $67 a year that includes BoatUS or BoatUS Angler membership. Without a towing plan, boaters face costs that average $600 per incident nationally.
Mitchell, who runs the towing service with his friend and business partner Capt. Skip Peterlin, is an Army captain on duty at Fort Benning, GA. "I keep track of the business end of things and do towing when I have weekends off," Mitchell explained. "Skip runs the day-to-day operation."
The two met years ago while on active duty in Afghanistan and became fast friends. Both are outdoorsmen who have been boating since childhood and hold US Coast Guard licenses. Peterlin worked for TowBoatUS Lake Lanier over the past year, and when he told Mitchell about it, the two decided the towing service would be boon to Lake Oconee boaters – and a way for them to have careers doing something they love to do.
They keep their boats – a 21-foot Wellcraft and a 21-foot flats boat, both with 200-horsepower Evinrude outboards, and a 19-foot Sidewinder jet boat, powered by a 455-horsepower Oldsmobile engine – at Fish Tale Marina in Eatonton, GA, about midpoint in the lake.
The Wellcraft and the flats boat are fully rigged for towing and salvage, with powerful pumps, battery jump packs, dive gear and extra fuel. The Sidewinder is used for light duty, such as fuel deliveries—and for showing off the TowBoatUS name. "It's a real looker, one of the prettiest boats on the lake," Mitchell said.
Boaters can contact TowBoatUS Lake Oconee by hailing on VHF channel 16, calling the company directly at 706-816-1292 or calling the BoatUS toll-free 24/7 Dispatch Service at 800-391-4869. Assistance can also be summoned via smartphone with the free BoatUS Towing App, and BoatUS is also the only towing service that offers satellite messaging services with the SPOT and inReach satellite communications services. To see the company's location on a map, go to www.BoatUS.com/lakeoconee.
Image courtesy TowBoatUS