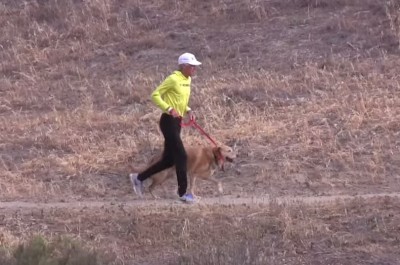 In May 1969, Jon Sutherland set out on an eight-mile, barefoot run across the grass of California State University-Northridge. He hasn't stopped running since.
The now 63-year-old track coach at California's Notre Dame High School claimed his place in the national record books on Tuesday, surpassing previous record holder, Mark Covert, who stopped running at his 45th anniversary.
Sutherland's daily running streak began for a number of reasons.
He first got the idea from Covert himself, who was his teammate when they both ran track for Los Angeles Valley College. "Mark told me he had run every day for a year," Sutherland told The Los Angeles Times. "I go, 'I'm going to try that.'"
But the streak didn't truly begin until after Sutherland suffered a devastating 95 percent tear to the peroneal nerve in his lower leg. After months of going stir crazy while waiting for the injury to heal, he was determined to get back to the sport he loved. "I remember sitting there and I said a prayer, 'God, if you let me run today I'll run every day for the rest of my life.'" he told ESPN last October. "It took me like an hour and 20 minutes to run eight miles. I was so afraid of the pain coming back. But when I was done, I just felt so good."
Now, 45 years and two days later, Sutherland has not only maintained his streak by running at least one mile a day, he has created an impressive running legacy for himself. Averaging 11 miles a day, Sutherland has covered more than 190,000 miles. He has also won 325 of the 615 races he has competed in, with his best times clocking in at 28:51 for a 10K and 13:51 for a 5K.
The road has not always been and easy one, however. Sutherland has suffered numerous broken bones and has endured multiple surgeries. During his two knee operations, he hit the track just an hour before surgery and then, unknown to his doctors, the very next day. He also limped his required one mile per day on crutches just a day after his bunion surgery.
But it was a hip injury in 1988, caused by falling on ice during a half-marathon, that truly tested his determination. The excruciating pain, caused by the tendons tearing away from the bone, lasted for nine months, in which time Sutherland believes he re-injured himself at least twice. During that time, it took every ounce of psychological strength to complete even the shortest distances. "I know I jeopardized my recovery," he told Runner's World Newswire. "You do dumb things to keep the streak alive, like running on a boat during a hurricane."
But Sutherland persevered, and he now claims his place at the top of the charts held by the U.S. Running Streak Association.
"Then they think you're crazy," Sutherland explained to ESPN, when discussing his need to run. "That's kind of the inside joke among all the streakers—we tell each other how crazy we are, but we aren't. We're just people who have something we really enjoy and we do it."
Sutherland is closely followed in the rankings by Jim Pearson of Marysville, Washington, who has been running every day since February 16, 1970. This puts him just nine months behind the leader, but Sutherland has no intention of giving up his record anytime soon. He's still in great shape and plans to continue to run as long as he can. He told The LA Times, "As long as I'm healthy, I'm going to keep going. I'm addicted to running. It's all I do."
Image screenshot from YouTube video by Los Angeles Times