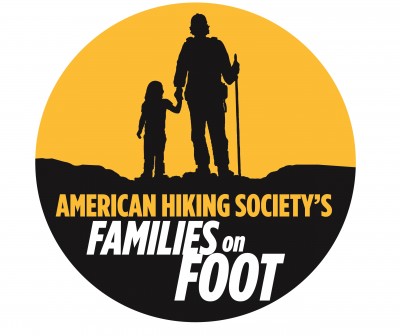 The Families on Foot initiative provides Americans with the information, resources, and close-to-home opportunities to get their families outside, hiking on trails. 
Great Smoky Mountains, Grand Canyon, Mount Rainier, and Blue Ridge Parkway are just some of the national parks that American Hiking Society's Families on Foot Initiative and FalconGuides are promoting through Falcon's Best Easy Day Hikes series. FalconGuides have rolled out 16 Best Easy Day Hike titles that have the Families on Foot stamp, also including Colorado Springs, Adirondacks, Bend and Central Oregon, Phoenix, San Luis Obispo, and Lake Tahoe. These are a great Father's Day gift to inspire families to get outside and hike.
American Hiking Society advocates for families who love to hike and encourages communities to create new opportunities for families to get outside. Hiking is a great way to bond with kids, parents, grandparents, neighbors—even furry friends. American Hiking Society is working to expand urban and suburban hiking opportunities so young people can develop a deeper connection with the land and become advocates for the nation's parks, forests, and other public lands.
"American Hiking Society's Families on Foot initiative promotes the Best Easy Day Hikes series for families to get outdoors," said American Hiking Society President, Gregory Miller. "Family hiking is a fun, cost-effective outdoor activity that can improve individual health and well-being, as well as improve family communication across all generations."
"FalconGuides encourages families to get outdoors and have fun. We applaud American Hiking Society's efforts to establish, protect, and maintain America's foot trails. We are proud to partner with them and add the Families on Foot stamp to our Best Easy Day Hikes series," said Steve Culpepper, Executive Director of Editorial for FalconGuides.
This announcement coincides with this year's National Trails Day®—America's largest annual trails and outdoor celebration. Organized by American Hiking Society, the 22nd annual National Trails Day kicks off on Saturday, June 7. Across America, hundreds of thousands of hikers, cyclists, paddlers, horseback riders, and volunteers from every state are gearing up to participate in outdoor activities on land and water trails at more than 2,000 nationally sanctioned events across the land.
Every year, for more than two decades on the first Saturday of June, hiking clubs, agencies, businesses, and non-profits organize free public events to introduce Americans to fun outdoor activities like hiking, cycling, horseback riding, and canoeing. Trail stewardship projects are also in abundance, giving volunteers an opportunity to renovate degraded trails, improve trail facilities, and restore natural habitats at their favorite parks and forests.
This June, we encourage you to get outdoors with your family, take part in National Trails Day on June 7, and buy a FalconGuides Best Easy Day Hikes guide, a great gift for the family on Father's Day and beyond. For more information go to www.americanhiking.org.
Logo courtesy American Hiking Society