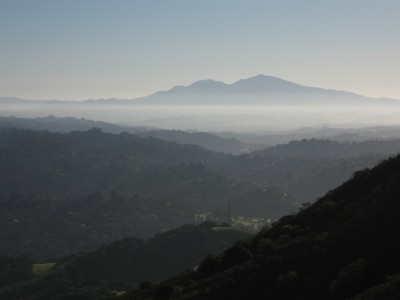 In an effort to see how California's Mount Diablo State Park is recovering after Morgan Fire burned more than 3,000 of its acres last September, Nerds for Nature has started a project that will showcase the growth. The organization has asked hikers to upload photos of the park to social media with the hashtag #morganfire, which will eventually be combined to form a time-lapse of the recovery progress.
The Nerds for Nature website states, "While the charred landscape can appear alarming, fire is actually a natural part of the mountain's ecology, and many plants actually require fire to reproduce."
"Basically the hikers on these trails become a sort of distributed remote sensing network to create a time-lapse of fire recovery here," said Dan Rademacher, a co-founder of Nerds for Nature, according to KQED Science.
Because those directly involved with the project are not able to visit Mount Diablo on a daily basis, the idea for hikers to upload photos via social media was pitched. This form of citizen science has been pretty successful, with more than 300 usable images gathered so far. Four signs were set up in different areas throughout the park that include brackets to hold smartphones. Users must place their phones within the bracket, ensuring that photos submitted are consistent because they're of the same four areas at precise angles.
The project is expected to go on for another year, and the founders hope it will be used in scientific studies about wildlife recovery. "[We'll learn] when certain plants sprout, start to flower. What species move in, at what rates," said Senior Environmental Scientist Cyndy Shafer, according to CBS San Francisco.
In a bigger sense, projects like this have the opportunity to be part of large-scale scientific data collection. "More and more it's species tracking or using social media to calculate the economic value of recreation in parks to help with quantifying climate change impact," Rademacher continued. "So there are a lot of different ways that mobile social media can turn into science."
For more information about the project, check out the data spreadsheet.
Image from Hugaholic on Wikimedia Commons