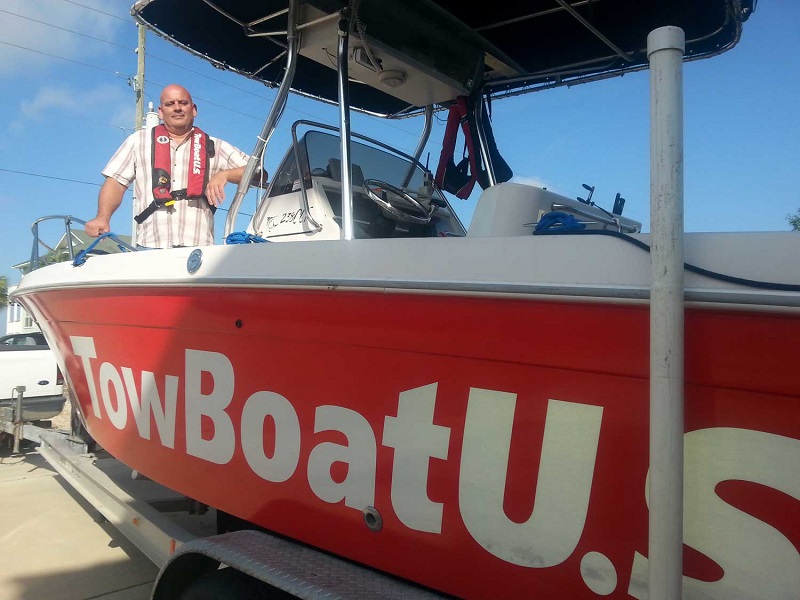 Captain Shane O'Neal, who brought TowBoatUS on water towing assistance for recreational boaters and anglers to Destin and Panama City, Florida last year, has extended his business eastward along the Panhandle, with the opening of TowBoatUS Mexico Beach this spring. "With three locations, each about 45 minutes apart by water, we'll be able to provide faster service to boaters who have a breakdown, get stuck on a sandy shoal, need fuel, a jump start, or a tow back to a ramp," O'Neal said. "And we're on call 24/7."
Much like an auto club for boaters, TowBoatUS offers nationwide on the water towing plans for saltwater boaters and anglers for just $149 a year that includes BoatUS or BoatUS Angler membership. Without a towing plan, saltwater boaters face costs that average $800 per incident nationally.
O'Neal, a former Georgia firefighter, and his wife, Stacey, opened their first local TowBoatUS business on a Tennessee lake in 2008 when the couple pawned Stacey's wedding ring to raise the cash to buy their first towing response boat. They now have 15 boats at nine locations in Tennessee, Alabama and Florida – the most for any single TowBoatUS company – and Stacey has her ring back. In January the O'Neals won the TowBoatUS Tower of the Year award for their company's "near-perfect towing dispatch operation, superior customer service and satisfaction, and ongoing towing case management."
O'Neal contracted with Captain Tim Brock of Mexico Beach to run TowBoatUS Mexico Beach. "I know these waters really well," said Brock who came from Georgia five years ago because he "fell in love with the Gulf. I did a lot of river boating earlier, but I like saltwater better." Brock holds a USCG Captain's License and has run a fishing charter business in the area.
His response boat is a bright red 24-foot Wellcraft center console with a 225 horsepower Johnson outboard and big white "TowBoatUS" letters on the hull. The boat is rigged for towing and salvage, with powerful pumps, battery jump packs, dive gear and extra fuel.
Boaters can contact TowBoatUS Mexico Beach by hailing on VHF channel 16, calling the company directly at 850-865-5672 or calling the BoatUS toll-free 24/7 Dispatch Service at 800-391-4869. On water assistance can also be summoned via smartphone with the free BoatUS Towing App, and BoatUS is also the only towing service that offers satellite messaging services with the SPOT and inReach satellite communications services. To see the company's location on a map, go to BoatUS.com/mexicobeach.
Image courtesy TowBoatUS