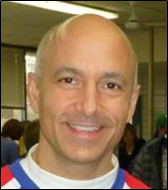 Chicago-based lifestyle company, Moji, is pleased to announce the addition of Jonathan Harris as the new Director of Sales to the increasingly popular massage and recovery brand.
Harris comes to Moji with over 20 years of sales management and customer relationship experience, having worked as a rep and National Sales Manager across a variety of industries.
With a stellar track record in overseeing sales growth, targeting strategic relationships and leading sales teams to success, Harris will focus on continued growth of the Moji brand within the recovery and pain relief space, as well as establishing Moji's presence in new channels
"Jonathan is an avid fitness enthusiast in both endurance cardio and weight training with a wealth of personal experience in muscle recovery and the benefits of post workout massage" said Victor Viner, Founder of Moji. "His passion for fitness and focus on business results will enhance Moji's sales efforts within existing and new accounts. We're thrilled to have Jonathan join our talented team."
Moji is currently working on the next generation of their popular Moji 360 Massager Line with new products set to debut in fall 2014.
Image courtesy Moji