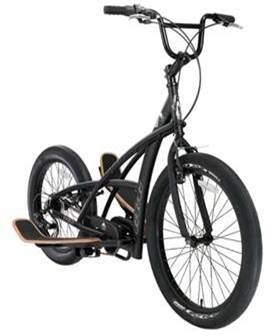 Introducing the 3G Stepper, an outdoor, full body workout which strengthens your body, builds muscle and tones your arms, chest, back, midsection, legs and glutes. Founder of 3G Bikes, Gary Silva, creates this revolutionary fitness product by teaming up with Ideal Bikes MGF, the 3rd largest bicycle manufacturing company in the world. This exercise bike hones into being "built like tank and an absolute blast to ride," making it the perfect blend between an upright, low impact exercise machine and a stylish outdoor bicycle.
Featured in the LA Times, Popular Mechanics, Playboy and Bicycle Retailers, the Stepper is available in a variety of styles for each personality and specialty. Including the Junior, perfect for those five to eight years old, Spyder for those nine to thirteen, Diablo, the exclusive Hammer, Work-It, Jackhammer and Da Money, every style hones into the needs and desires of children, women and men. There are Stepper distributors all over the world – not just the U.S. – including Europe, Chile, Brazil, and Canada.
The 3G stepper styles are ergonomically correct and fully adjustable, so the rider can find their comfort zone while maintaining a powerful pedal stroke. This is a must-have for all looking for a revolutionary fitness product that combines function and trend.
For additional information, please visit http://www.3gstepper.com/.
Image courtesy 3G Stepper