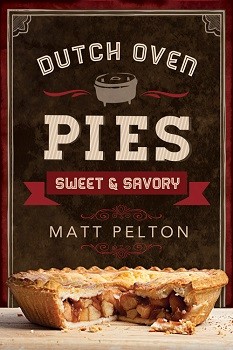 Two-Time Dutch Oven World Champion, Matt Pelton, will be teaching essential skills on Dutch Oven Cooking
Two-time World Champion, Matt Pelton, will be teaching a comprehensive hands-on Dutch oven cooking demonstration. Matt will you teach how to cook breads, meats, and, of course, pies. Learn all the techniques and tricks Matt has learned on his way to becoming a World Champion in Dutch oven cooking.
This demonstration will be held on Saturday, May 17 at 2373 W 700 S in Springville, UT from 11:30 a.m.-2:30 p.m. You can purchase your tickets online or at the Books and Things Store Outlet.
Watch a video demonstration here.
About Dutch Oven Pies:
Everyone's favorite dessert – now in a Dutch oven! Matt Pelton, back-to-back winner of the International Dutch Oven Society World Championship Cookoff, reveals his mouthwatering collection of sweet and savory pies perfect for any occasion. With Matt's expert advice on all things Dutch oven, you'll be baking up masterpieces in no time!
You can pick up a copy today at Barnes and Noble, Deseret Book, The Blaze's Marketplace, Books and Things, Cedar Fort, Amazon, and many other great bookstores.
Image courtesy Cedar Fort Publishing