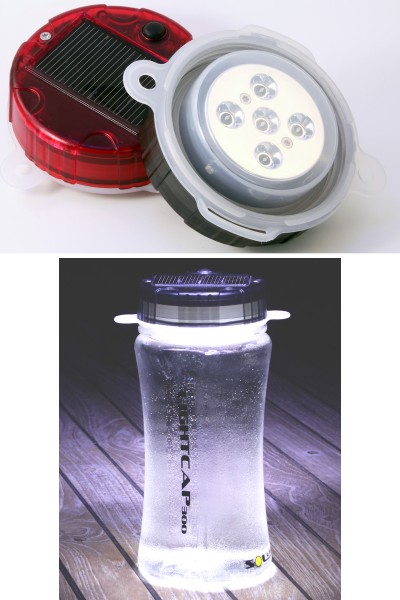 Making light available when and where it's needed, Davis Instruments' LightCap 200 and LightCap 300 provide illumination conveniently from practically any water bottle. The LightCap 200 turns any bottle with a 2″ mouth opening into a solar lantern, while the 300 is a BPA-free plastic water bottle complete with solar cell and internal storage battery built right into the 3″ cap.
Both models provide bright light with four white LEDs. The super-bright LEDs provide lots of light for up to 15 hours on a full charge, making them perfect for hiking, camping, boating, rafting, kayaking or keeping with emergency supplies at home or in a vehicle. They are housed in a reflective lens system that greatly enhances their brightness and dispersion, providing dazzling light when used up close or a more luminous glow when viewed from further away.
They also both feature a built-in light sensor which switches the light off during daylight hours while the battery charges. Owners can leave it at their campsite or boat and it will automatically turn itself on when the sun goes down and off when the sun comes up. A waterproof switch manually turns the light on or off.
All electronics, including the lightweight NiMH battery, are fully sealed inside the cap. The custom, quick-charging solar panel is molded directly into the cap and will provide power for many years.
In addition to four white LEDs, the LightCap 300 also features a single red LED. Holding 32 oz., this bottle offers an ergonomic grip with two flat sides to prevent rolling. Measuring 9.5″ tall and weighing just
10.5 oz., the LightCap 300 can act as a waterproof storage container for small, personal items. It also comes with a built-in retaining ring that allows users to suspend the bottle using the included lanyard, making it into the perfect hanging lantern. The cap can also be used as a small, stand-alone, solar-powered flashlight.
Davis Instruments' LightCap comes in two translucent colors, red or smoke. The LightCap 200 costs $24.99, while the 300 costs $29.99.
Image courtesy Davis Instruments