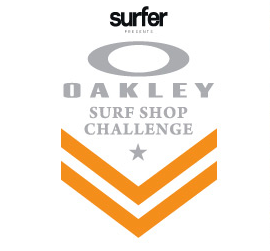 Surfing Lowers with only three other guys out is a privilege usually reserved for World Tour pros, or at the least high-ranking 'QS warriors. But thanks to the 2014 Oakley Surf Shop Challenge (OSSC), surf shop team riders and shop employees had Southern California's best wave all to themselves.
Seventeen surf shops from around Orange County and Los Angeles gladly made the trek down the trail for the OSSC West Regional and were greeted by an oil-glass Lowers lineup that was all theirs, all day. The contest format pits four-man teams of shop employees and team pros from shops around the region against each other, with a year's worth of bragging rights, a sizeable amount of swag, and an expense-paid trip to Central America on the line.
Check out photos and event recap at Surfermag.com.
Like moths to a flame, the offer of empty lineups at Lowers attracts a swarm of talent, with pros like Chris Ward, Mason Ho, Nate Yeomans, Griffin Colapinto, Dane Zaun, and more in attendance. At the final horn, however, none of them were on the winning team. It was the crew out of Val Surf Thousand Oaks who took the title, the gear, the bragging rights, and the plane tickets.
Pascal Stansfield, a team rider whose 9.1 in the Final put Val Surf firmly in first place, laid out their game plan going in plain and simple: "We drew straws for the order this morning. We kept it real light coming in, just here to have a great time. At the end of the day, this is all for the surf shops who created this industry. So we just decided to be stoked to be surfing Lowers, to enjoy the day and just surf. And yeah, somehow we came out on top. I can't believe we beat those guys…they're a lot better surfers than us."
Stansfield was joined by Andrew Jacobson, a team rider, and Skylar and Chance Lawson, two shop employees and brothers, to make up the Val Surf team. Jacobson, their whammy rider, came out of the gates with a whammied 8.4 in the Final, backed up by Stansfield's 9.1 and further supported by a 4 from Chance Lawson and a 6 from Skylar Lawson. They defeated Huntington Surf and Sport, Catalyst, and Jack's Surfboards for the big win.
Skylar Lawson, whose score sealed the victory for Val Surf, made it clear he's worth his shop wages, and after the heat couldn't contain his excitement. "We're here at Lowers, this is as good as it gets," said Lawson, a shop employee. "It should be a Tour event here at Lowers, but instead it's just a regular contest, and we won it."
The crew out of Thousand Oaks was already mentally packing boardbags for Nationals as they left Lowers. So now, on to their next stop, somewhere in Central America, where they plan to use the same strategy to success. "So stoked. We're going to be drinking beer the whole time," said Lawson. "Well, until we have to surf."
The 2014 Oakley Surf Shop Challenge continues at Ala Moana Bowl in Hawaii on May 15.
Final results:
Val Surf –Thousand Oaks – 36.34 pts
Huntington Surf & Sport – 30.95 pts
Catalyst – 30.33 pts
Jack's Surfboards – Dana Point – 18.96 pts
The complete 2014 Oakley Surf Shop Challenge calendar:
March 28-29 – Southwest – Seaside Reef, Cardiff, Calif.
April 11 – Mid-Atlantic – Kitty Hawk, Outer Banks, NC
April 14 – Northeast – Manasquan Inlet, Manasquan, NJ
May 2 – West – San Clemente, Calif.
May 15/16 – Hawaii – Ala Moana Bowls, South Shore, Haw.
July 23/24 – Northwest – Steamer Lane, Santa Cruz, Calif.
August 11-12 – Southeast – Ponce Inlet, Fla.
TBD – National Championship – Central America
For all of the latest information including photos, video footage, results and more, check out surfshopchallenge.com.
Logo courtesy Oakley