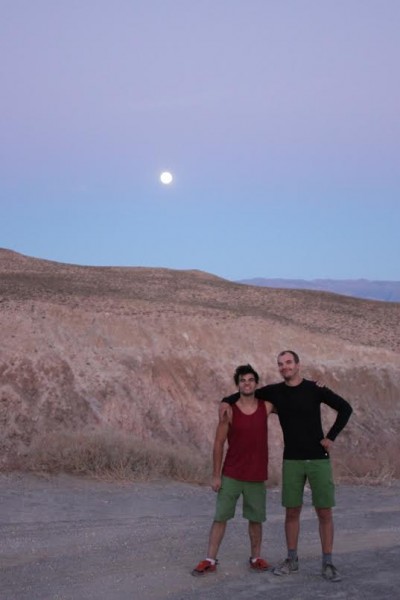 Seeking to pave their own way in the world of action sports filmmaking, Josh Larson and Vince Schaefer teamed up to form Cold House Media. As a full-service production house dedicated to "high octane outdoor and active lifestyle entertainment," the Boston-based company has completed its fair share of climbing-related films and is ready to add on to its portfolio.
"Growing up in Alaska, I've always had a great love of the outdoors and how fulfilled it makes me feel," said 26-year-old Schaefer. "After countless weekends in the mountains, my pursuit of photography led me to Seattle, and now Boston. I've been a climber for a large part of my life, and merging my creative passions with the outdoors felt like a natural step."
The photographer and filmmaker said breaking into the industry required one simple thing—hard work. He said getting Cold House Media off the ground was reliant upon constant creation and the honing of skills. Learning to stretch creativity was also essential, as well as beginning to establish a presence in the local community.
"Vince and I first started working together on a small documentary-style film about the behind-the-scenes of a climbing competition started up by myself and a friend," Larson said. "After the release and the popularity of the video, we were asked by EpicTV to go on a 100-day road trip to film and climb in the 10 best climbing areas around North America. And so we did. We purchased a 26-foot RV, loaded up a few friends, and hit the road with [a plan to] climb, film, be outside, and nothing else."
As for how the company has progressed, Schaefer said the first year was especially hectic.
"We spent a quarter of it on the road, traveling the country filming the climbing series Lost in North America, and produced several other climbing-related pieces for clients from both sides of the country," he said.
Schaefer said filming the 10-episode series was probably the most memorable for him. "[It] was amazing. Traveling, shooting, editing, and releasing the season all while on the road was an awesome challenge," he said.
Focused on the production of short documentary and narratives that tie into active lifestyles, as well as branded content for companies, the co-founders show they are versatile. Larson, a 28-year-old climbing athlete and trainer, said the experience of starting the business has been reliant upon he and Schaefer sharing their skills with each other.
"We have been self-teaching each other how the outdoor media industry works," Larson said. "Even picking up a camera for me was somewhat of a new thing when this began. Vince has shown me a lot and I have been focused on learning and expanding my knowledge in video editing and effects.
"There are strengths and weaknesses we both have and once we nailed them down, we found each of our niches. Vince is amazing behind a camera and pitching ideas. I have found planning, producing, and editing to be my biggest role."
In regard to current projects, Cold House Media is partnering with an outdoor climbing coalition to help create a web series that will work to share the organization's message and reach out to the climbing community. Schaefer said they're also "[…] showcasing the great climbing local areas have to offer. We're also in the process of producing a commercial for a local rock climbing gym."
As for the future, the duo is pretty open to new projects. Larson said they plan to "Pursue anything that could be a paying or non-paying gig. We love the exposure and we love what we do."
"Cold House seems to be finding a good fit here in Boston. We really love the New England scene and the community is really amazing," Schaefer said. "We're really looking forward to seeing what the future holds for us."
To learn more, follow Cold House Media on Vimeo and Twitter, and check out some of their work below:
Image courtesy of Cold House Media