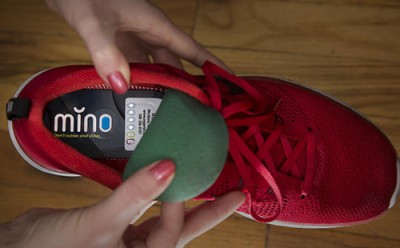 Most experts suggest that runners buy new shoes every 300 to 500 miles. After all, though we may love to wear them until the soles begin to peel off, worn-out running shoes are major causes of common running injuries. For most runners, however, it's the actual falling apart of a shoe that signals when it's time to get a new pair. The revolutionary mino insole may change that.
Recently released, mino is an insole that calculates mileage, utilizing six progressive LED lights to signal users when it's time to swap out shoes. At only 2.5 millimeters thick, the sleek design makes it easy to slip into any shoe, and promises comfort, even for shoes with insoles.
The insole measures miles in terms of compressions detected. mino's creators decided to set the tracker at an average of 600 steps per mile; at 400 miles, all six lights will be illuminated. The device's inability to factor in weight, height, and gait may be its biggest downfall. This means the "average runner" will have the most accurate read, while "outliers" may find the mino less useful.
Another downfall to the new design is it's a one-time use pad. It is also unable to begin calibration from the middle of the cycle. So, minos are meant exclusively for new, unworn shoes. The makers claim this was a purposeful decision in order to keep down cost, as well as to prevent users from having to reset and recharge minos. But at $15 a pop, the design may still need a bit of tweaking.
Image courtesy Minos