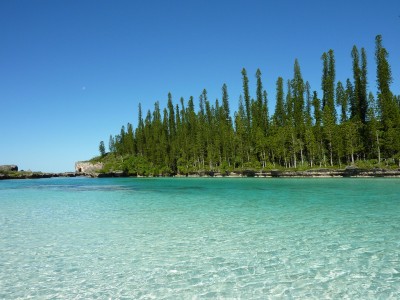 The government of New Caledonia recently announced the Natural Park of the Coral Sea (Le Parc Naturel de la Mer de Corail) is now an official protected natural area. The French territory of New Caledonia is a small island in the Pacific Ocean that is home to 256,000 people, according to a 2012 population estimate.
Conservation International (CI) New Caledonia Program Director Jean-Christophe Lefeuvre was interviewed for a blog post on CI's website about the designation. "At 1.3 million square kilometers (more than 500,000 square miles), the park is the world's largest marine managed area, covering an area of ocean more than three times the size of Germany. With the park's creation, 16 percent of France's total marine area will be protected. This sets a great example for other nations, who are collectively trying to protect 17 percent of terrestrial and freshwater, and 10 percent of marine areas by 2020 in order to meet the Aichi Biodiversity Targets."
While the territory is technically part of France, power has been transferred to local leaders consistently since 1999. Included in the park is one of the world's largest reef structures. Lefeuvre said so far scientists have discovered 48 species of shark, 25 marine mammal species, 19 species of nesting birds, and five species of sea turtles.
Despite the announcement that most view as a positive step, Association for the Protection of Nature in New Caledonia President Jean-Louis d'Auzon told Radio New Zealand it has the possibility to not be protected fully.
"It could be possible in this reserve to have mining and [other] exploitation. So we don't agree for that," he said. "If it is a reserve, it must be protected."
Image from NC21 on Wikimedia Commons