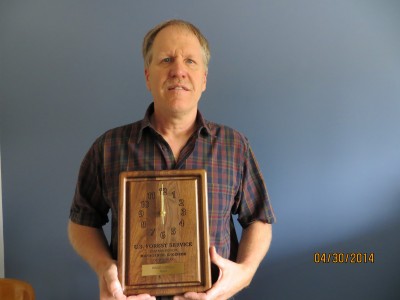 Brad Lidell, Supervisory Engineer on the Hoosier National Forest received the Eastern Region Engineer of the Year Award for 2013. He was nominated by District Ranger Chris Zimmer.
Zimmer notes, Lidell's contributions over his 24 years on the Hoosier have been significant. In 2013, he and his engineering staff helped improve water treatment needs at Hardin Ridge Recreation Area and took the lead in designing and issuing contracts for roof repairs on several toilet and other recreation facilities across the Forest."   Lidell also worked with Federal Highway Administration staff, county road superintendents, and Indiana state highway staff to address long-term road maintenance needs throughout a nine county region.  In 2013 he successfully secured partnership funding to reconstruct or maintain roads accessing Forest lands in Perry, Orange, Brown, Jackson and Monroe counties.  He has also taken the lead on gathering information that will help focus future access needs on highest priority road systems in the Hoosier National Forest.
In addition to achieving so many milestones, Zimmer said Lidell is helping lead the effort to bring a high hazard dam into federal and state compliance.
Lidell has also led the initiative to protect Forest areas from damage by illegal off highway vehicles (ATVs and other motorized vehicles) by placing barrier posts across the Forest to restrict their access.
Zimmer added, "Brad has long been active in our fire program. He and his staff participated in several prescribed burns during 2013 and 2014 and he often reviews and prepares prescribed burn plans.  He serves as the Hoosier National Forest Safety Officer and on a team that responds to national emergency incidents."  In 2013 he worked for three weeks as a Safety Officer in New York City following Hurricane Sandy and also worked on two western fire assignments.
Lidell has worked on the Hoosier since 1990; he previously worked on the Shawnee and Chequamegon National Forests.  
Image courtesy U.S. Forest Service