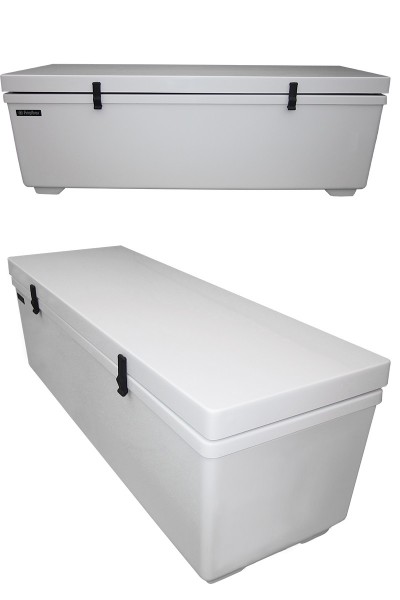 Renowned for refrigeration that keeps food and drink at precisely the right temperature, Frigibar also helps maintain neatness onboard with its waterproof deck boxes. Handcrafted with an eye to detail, the company's D-Series Deluxe Waterproof Storage Boxes provide the perfect complement to its premium Cockpit model refrigerator/freezers.
Attractive and functional, the D-Series can turn any deck into a showplace while reining in clutter. They pair perfectly with Frigibar Ensign, Skipper, Captain and Commodore refrigerator/freezers for aesthetically pleasing balance onboard, with a built-in look. These attractive yet rugged rust-proof storage boxes are made from fiberglass and ensure a watertight seal.
The multipurpose D-Series not only adds storage space, but provides extra seating. Optional 3″ cushions add comfort with a made-to-measure finish. A chrome/brass deck installation system is also available.
Frigibar Deluxe Waterproof Storage Boxes measure 20″ W x 21″ H, with a choice of 40″, 50″, 60″ or 80″ lengths. Frigibar specializes in customization to meet specific customer needs. Prices for D-Series deck boxes start at $2,190 for the 40″ model; cushions start at $339.
Image courtesy Frigibar