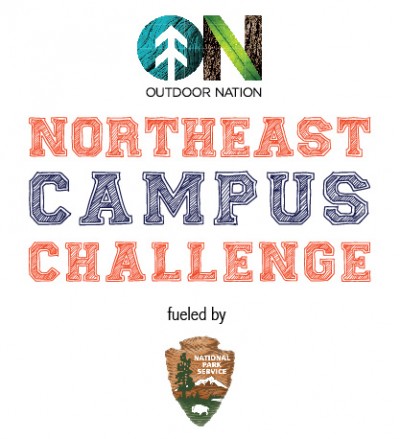 Building on the Foundation's work with college communities, the NE Campus Clubs program will invest in the best ideas driven by colleges and universities that increase outdoor participation.
Outdoor Nation, the signature program of Outdoor Foundation in partnership with the National Park Service, announced today the launch of the Northeast Campus Clubs program –strengthening the existing network of outdoor clubs and programs on college campuses to get more young people outside and active. Outdoor Nation and the National Park Service will invest a total of $40,000 in 10 university campuses across the Northeast — empowering schools, students, faculty, alumni and the surrounding community to change the way they engage in the outdoors.
From now until May 23rd, colleges and universities in the Northeast can submit their best ideas on how to get their campus community outside and active, including visits to national parks.  The Outdoor Foundation and National Park Service will then select the top ten schools to receive funding for implementation of their ideas.
"The National Park Service is pleased to partner again with the Outdoor Foundation to encourage more and more millennials to discover the magic of getting outside!" Said Julie Isbill of the Rivers, Trails & Conservation Assistance program of the National Park Service.  "This time the emphasis is on visiting our National Parks that are eager to welcome young people to experience some of our nation's most prized cultural and natural gems."
The Foundation's college engagement strategy is based on many years of research that proves one of the biggest declines in activity among Americans occurs in the 'team sport category' between the ages of 15 and 24. Believing this represents an opportunity to reach young people and specifically college students, Outdoor Nation is working to empower student to get outside and active — their way.
"College students are among the most creative and inspiring group of people in our country today," said Chris Fanning executive director of the Outdoor Foundation. "Over the past several years, these young leaders have emerged as the drivers behind Outdoor Nation. The Northeast Campus Clubs program and our other campus work builds on our investment in these change makers. We believe if we are truly going to inspire a new generation of outdoor enthusiasts – the ideas and energy must come from them."
Three years ago, The Outdoor Foundation, with support from the National Park Service, launched the first Outdoor Nation Campus Clubs in Atlanta and Washington DC, which quickly expanded throughout New England. To date, Outdoor Nation Campus Clubs program has included 15 colleges and their university outdoor programs. These programs have engaged over 500 college and high school students and resulted in a strong relationship between institutions through monthly outdoor outings. The Northeast Campus Clubs program builds on this success and will aim to connect hundreds of students to the outdoors in 2014.
Winning schools will be announced on June 16th and outings will take place Fall 2014 through Spring 2015. Visit outdoornation.org/grants to apply or email Ivan Levin for more information at [email protected].
Logo courtesy Outdoor Foundation