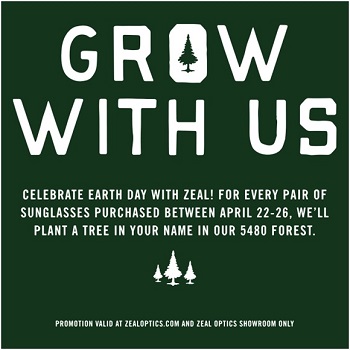 In honor of Earth Day, ZEAL Optics will plant a tree in its 5480 Forest for every pair of sunglasses sold on zealoptics.com or in the brand's Boulder showroom during the week of April 22-26.
"At ZEAL Optics, we're constantly looking for ways to decrease our footprint and increase our commitment to being the most sustainable sunglass company in the world," said ZEAL President John Sanchez. "Whether it's using biodegradable materials in our frames, eliminating petroleum-based resins from our entire sunglass line, or expanding our rapidly growing 5480 Forest, we don't think it's cliché to say that Earth Day is everyday at ZEAL."
The 5480 Forest project was launched in June of 2013 with a partnership with American Forests and ZEAL's commitment to plant 5,480 trees each year as part of its Grounded Initiative.
"We are excited to grow this project," continued Sanchez about the ZEAL 5480 Forest, whose name comes from the elevation of ZEAL's offices. "We believe in doing our part so that the forests we put images of in our ads, catalogs and marketing materials are around for generations to come.  Someday I want to walk our customers, friends and my family through these forests."
The idea came about after seeing the devastation that pine beetles have wrought across ZEAL's home state of Colorado. Over the last decade-plus, the beetles, which were historically dormant in the winter months due to cold temperatures, have remained active year-round and are decimating the Rocky Mountains' lodgepole pine forests, completely altering the range's ecosystem and exposing the area to severe fire risk due to the massive expanses of standing dead trees. The beetles are estimated to have killed more than 70% of Colorado's 1.5 million acres of lodgepole forests and are expected to finish their work, leaving an area the size of Rhode Island barren in their wake.
ZEALharvests and repurposes the dead trees to mitigate fire risk by using beetle kill wood in its packaging, optics fixtures, and office space and decided to take things to the next level with Project 5480 and this year's Earth Day campaign.
"All of our sunglasses are literally grown from plants, and we're excited to continue to close that loop by planting saplings from those seeds of change," adds Sanchez.
To do your part this Earth Day week, purchase any sunglasses on zealoptics.com or at the brand's showroom at 1230 Spruce St. in Boulder, Colorado and ZEAL will plant a tree in your name in Colorado's 5480 Forest.
Logo courtesy Zeal Optics