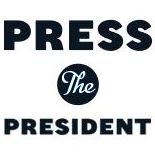 For many Americans, April signifies the arrival of spring and new beginnings. This April, Press the President, an online collaborative blog, is challenging Americans to start a new beginning by "going green" and share their actions with our readers. With Earth Day taking place on April 22nd and Arbor Day taking place on April 25th, there are plenty of opportunities to celebrate the environment. Below are some tips from the editorial staff at Press the President on how you can go green this April:
Writing Online – American businesses throw away 21 million tons of paper every year, so what better way to celebrate the environment than by writing online? Press the President allows you to engage in debates and express your opinion in an open political forum. And the best part is, not a single sheet of paper goes to waste on our articles!
Have a Vegetarian Day – Press the President recently interviewed Congressman Jim Moran about animal rights. One way to help animals, and the globe, is go "vegetarian" once a week. Did you know that it requires 2,500 gallons of water to produce one pound of beef? By eliminating meat from your diet once a week, you are saving the environment and helping animals. On the days that you do eat meat, try to buy local grass-fed produce to help lower the carbon footprint even more.
Rock Your Own Coffee Cup – There is no doubt America is a caffeinated nation and many of us depend on our coffee. But we can still have our coffee from restaurants and save the plastic and paper wasted containing it every day. Many coffee stores now offer discounts if you bring your own cup as well.
Gift It, Don't Throw It – How many times have you heard the expression 'one man's trash is another man's treasure?' This spring, make that a reality by donating your clothes, electronics, and other items to a charity instead of tossing them. Or get those items to a recycling bin.
Live in an apartment? Organize a drive with other members in your building so that you make fewer trips to the shelter and save gas as well.
Urban Gardening:  Just because you live in the city doesn't mean you can't add some green to your everyday life. First Lady Michelle Obama brought urban gardening to the White House, and so have many city residents who have started community gardens to create a more sustainable lifestyle. Also consider teaching children about the importance of learning where your food comes from.
In addition to all these tips for living a greener lifestyle, Press the President wants you to share your story on our website and social media outlets. We are hosting a photo competition throughout the month of April because we want to see (and the President to hear and see) how you and your community are going green. To submit a picture, either tweet @PTP_US with the hashtag #GoGreen, post on our Facebook wall, or email [email protected].You can read the full contest guidelines her:  http://www.pressthepresident.com/show.jsp?page=176738.
Logo courtesy Press the President